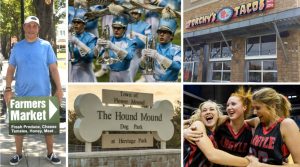 Pokémon Go injuries, new taco places and rumors of clown sightings weren't all that happened in southern Denton County this past year. Here are our picks for the top news stories of 2016 (in no particular order):
Flower Mound's long-awaited Farmer's Market launched in June and was such a success, it had to relocate to a larger space in August.
Southern Denton County commuters were rewarded with a stoplight-free pathway to the airport and a wider FM 1171 through west Flower Mound.
In response to service issues, including improperly disposing of recyclables, Lantana and Flower Mound dumped Waste Management and contracted with Republic Services for trash and recycling.
A deadly head-on collision caused by distracted driving just north of Argyle on Hwy 377 claimed four lives in April. Argyle was the first southern Denton County municipality to outlaw handheld devices while driving.
Flower Mound residents approved six out of eight amendments to the Town Charter–one of which increased the number of years that a council member serves.
After 15 years of serving the community, the Highland Village Kroger store on FM 407 closed in mid-November.
Many residents and businesses got their wires crossed when Frontier Communications took over Verizon FiOS service in Texas on April 1.
Mayors in Flower Mound and Highland Village kept their seats this May but there is a new sheriff in town.
Realty Capital Management broke ground in June on The Lakeside Tower, a 15-story luxury high-rise condominium on Lake Grapevine in Flower Mound.
Firefighters responded to a residential blaze in June on Landseer Drive in Copper Canyon that turned out to be the home of Argyle Fire Chief Mac Hohenberger.
Flower Mound's first dog park, The Hound Mound at Heritage Park, officially opened on January 29.
It took two tries, but a resident not associated with Lantana's developer was elected to the Lantana Community Association's Board of Directors in the community's first HOA election in March.
Officials from the Argyle Independent School District celebrated the opening of the new Argyle Middle School in August, while just up the road Liberty Christian School unveiled its new addition in January.
A Flower Mound man took the life of his estranged wife on a busy road in Southlake on May 31.
After a year-long investigation, a Denton County Grand Jury in December returned a decision not to indict Flower Mound Councilman Itamar Gelbman on ethics charges.
Ground was broken for the Denton County Precinct 4 Southwest Courthouse in Canyon Falls and the long-awaited $9 million Precinct 3 Government Center opened to the public.
Argyle officials approved rezoning that will bring retail, restaurants and homes to 105-acres at the southeast corner of Hwy 377 and FM 407.
Longtime Flower Mound resident LaRue Johnson, former publisher of The Cross Timbers Gazette, passed away in August.
Parker Square welcomed the Innovate Center and broke ground on a satellite campus for Midwestern State University.
A coal train derailed at Denton Creek in August, causing Hwy 377 to be shut down for several days between Flower Mound and Roanoke.
Lewisville ISD high schools earned the top three spots in the State Class 6A Marching Band Contest at the Alamodome in San Antonio.
The Argyle girls' basketball team plowed their way to the top once again, while its golf team clinched the 4A State title for the second year in a row.
Flower Mound High School won its first ever girls soccer state title with a 2-1 win over Highland Park that concluded in a 5-3 penalty-kick overtime shootout.
What was your top story of 2016? Tell us in the comments below. Happy New Year!