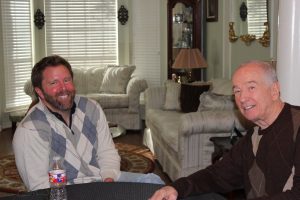 Recently, at a Flower Mound Chamber of Commerce luncheon, the guest speaker was Jason Adams, Managing Partner at Day One Consulting LLC (www.dayone.consulting), a Texas corporation specializing in helping cities build economic development through local entrepreneurship.
In March 2015, the Town of Flower Mound contracted professional services with Day One Consulting, a firm that specializes in assessing local entrepreneurial landscapes and building actionable strategies for municipalities to implement as part of their overall economic development plan. Day One delivered its assessment study and plan in June, with findings that recommended the creation of a local Entrepreneur Center. Consequently, on October 5, 2015, Day One Consulting was approved by the Town to proceed with the development and build out of a local entrepreneur center.
The center, named "Flower Mound Innovate at Parker Square," will be located in the 600 building of the Parker Square office and retail development. It will provide a space for local entrepreneurs to connect and find synergies as well as have access to mentors, programs, resources, and investors. As one of the attendees at the Chamber luncheon, I recognized what I believe to be a valuable contribution to business growth being provided by this specialized field of endeavor. In order to provide more information to town residents, I invited Jason Adams to come by for an interview to explain how the center will operate, how it will be funded and when it will begin operations. "The center will be a meeting place for prospective entrepreneurs to get together with other likeminded area residents and have an exchange of ideas and experiences to help promote the business community," said Mr. Adams.
A 501c3 non-profit company, the center will be funded by the Town of Flower Mound, and is scheduled to open in early January 2016. Mark Wood, the town's Director of Economic Development, recently said, "Day One's local entrepreneur assessment study provided us with confirmation that our entrepreneurial community was strong, vibrant, and desiring a way to connect with other entrepreneurs and resources. Day One's work helped ensure that the community stakeholders were excited and would support a town led initiative." Additionally, Mr. Wood said, "Day One also played a pivotal role in helping us create and negotiate a partnership with the investment group that owns the buildings at Parker Square, and provided a clear definitive three-year action plan the Town Council was able to vote on."
As a result, the Town Council approved a three-year lease agreement with Parker Square and a continued professional services agreement with Day One Consulting, which will provide ongoing consulting to the Town, delivering strategies for the Town to continue to help foster and facilitate local entrepreneurs to achieve success. The professional services agreement also includes management services where Day One will be responsible for executing the implementation and operations for the entrepreneur center for the first three years. Jason Adams, who refers to himself as a serial entrepreneur, has a successful history of both consulting for towns and building entrepreneur centers.
His first partnership with the Town of McKinney, resulted in his "Collide Center" helping more than 27 entrepreneurial companies, which raised more than $4.2 million dollars in their first year. Now the center is completely backed and operated by the town under the name The Werx and has seen two of those companies reach over 30 employees. "We are excited that more and more communities across the country are looking at ways to help foster local entrepreneurs as a way to grow and diversify their economic development investment," said Jason, "and we are honored that those forward-thinking towns like Flower Mound are turning to us to help them."
In the video below Jason explains how aspiring entrepreneurs can avail themselves of this new and innovative service.
Bob Weir is a long-time Flower Mound resident and former local newspaper editor.