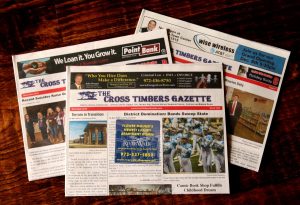 The Cross Timbers Gazette is a locally-owned and operated regional newspaper and website covering local news and people in southern Denton County, TX, including the towns and communities of Argyle, Bartonville, Canyon Falls, Copper Canyon, Double Oak, Flower Mound, Highland Village, Lantana, Northlake and Robson Ranch.
The Cross Timbers Gazette was first established in Double Oak, TX in 1979 as The Double Oak Gazette by a small group of determined volunteers to keep the town's residents informed.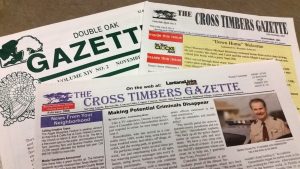 In 2002, the newspaper was renamed The Cross Timbers Gazette to reflect its growing circulation in neighboring towns.
In 2006, The Cross Timbers Gazette was acquired by Miller Media Holdings LLC, owner of LantanaLinks.com, from longtime owner LaRue Johnson.
Launched in 2003, LantanaLinks.com provided local news and community information for southern Denton County and had quickly grown to become the premier local news website in the area.
In 2010, LantanaLinks.com was re-launched to become CrossTimbersGazette.com. The same ownership, philosophy and mission statement remained: To be the hometown news and information source for southern Denton County.
Today, thanks to our readers and advertisers, The Cross Timbers Gazette is the largest locally-owned, direct-mailed news publication in Denton County, reaching over 140,000 affluent residents each month.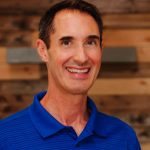 Owner: Miller Media Holdings LLC
Publisher/CEO/Advertising: Max Miller – 940-728-8284 – [email protected]
News: Mark Smith – 940-448-0703 – [email protected]
Graphic Designers: Crystal Adams, Susan Miller
Contributing Writers: Brad Barton, Brandi Chambless, John English, Steve Gamel, Terri Guthrie, Mark Miller, C. Stroup
Contributing Photographers: Lynn Seeden/Seeden Photography
Editorial and Advertising Submissions: The Cross Timbers Gazette welcomes your letters. Letters can be edited for length, clarity and accuracy. All letters become the property of the CTG, and may be published in print, electronic and other forms of media. Letters should include your name, address, and phone. Anonymous letters will not be printed. E-mail your letters to the Editor. Opinions expressed in articles, editorials, letters, and forum posts do not necessarily reflect the opinions of the CTG or its staff. We reserve the right not to print letters or accept advertising deemed unsuitable for the CTG.