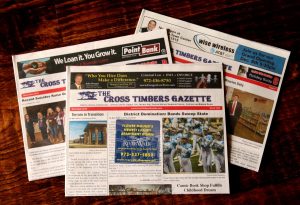 Local Lives Here in southern Denton County!
The Cross Timbers Gazette  is a trusted local, family-owned business, deeply rooted in our area. Established in 1979, The Cross Timbers Gazette is mailed monthly free of charge to over 50,000 southern Denton County homes and businesses–reaching over 120,000 affluent residents– including every mailbox in Flower Mound, Highland Village, Lantana, Argyle, Bartonville, Canyon Falls, Copper Canyon, Double Oak, Harvest and Robson Ranch.
It is also distributed in newsstands across southern Denton County and available online at CrossTimbersGazette.com.
Our website, CrossTimbersGazette.com, launched in 2003 and is the premier daily news and information source in southern Denton County. We average 100,000 unique visitors and over 1 million page views per month!
We have a large following on Facebook and Twitter as well.
The Cross Timbers Gazette is proudly locally-owned and operated by Miller Media Holdings LLC in Flower Mound, TX.
Want to learn more? Please call us at 940-728-8284 or email Max Miller at [email protected] today!