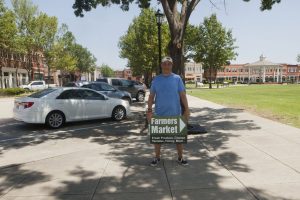 "Nothing succeeds like success" … or "Trust me on this" … how about … "I told ya so."
All those well-known sayings could apply to the success of Flower Mound's Farmer's Market and its creators/management company, Four Seasons Markets founders– Vincent Hirth and Florine Bowman, of Florine Bowman Pastries in Dallas fame.
Of course, Hirth and Bowman are way too professional—and classy—to pull an: "I told ya so." Like the other 24 successful European-style markets Four Seasons Markets has launched, the local market is modeled after successful festivals the couple ran in France, prior to moving to America.
Even though there have been some glitches—like the main produce vendor not making it to the June 11 opening market because his truck broke down on the way to town—the number of vendors and the number of people attending each Saturday has popped like there's steroids in the air. Basically, it's busting at the seams already; and its outdoors.
The Flower Mound market has been such a quick success, it needs to relocate to a larger space—Parker Square—starting Aug. 20.
In other words, it started out as Dr. Bruce Banner and quickly morphed into The Hulk. The "green" market has been confined to the Town Hall parking lot at Cross Timbers and Morriss Road with customers using the parking lot across Morriss to attend.
"The tenants across the street were okay with us and people parking in the lot, but the shopping center management company wasn't happy with us," said Hirth.
As the Farmer's Market "Stan Lee" creator, Hirth knows that allowing the market to grow is the correct script for its future.
"I'm the one who requested that Matthew Woods [director of Flower Mound Environmental Services] help us find how we can add more vendors," said Hirth. "The idea to relocate to a new temporary site in Parkers Square was discussed and it will mean the market will be able to have between 75 to 80 vendors."
During the July 18 Town Council meeting, an update on the status of Parker Square and its increased occupancy rate by developer Curtis Shore was received with enthusiasm from the council members.
His presentation also led to a discussion about the possibility of moving the temporary location of the Farmer's Market from the Town Hall parking lot to Parker Square.
"We had a great conversation about it," said council member Don McDaniel. "I think that's a win for everyone; even if it's a short term thing—which might be as long as two years.
"I think we [Shore and McDaniel] have the same economic philosophy—that 'all boats lift on a rising tide,'" said McDaniel. "As the Farmer's Market does well, Parker Square does well, the town does well and, ultimately, the River Walk does well."
"All the residents in our buildings are crazy about the idea and have been asking for it," said Shore. "We have over three-acres of concrete and there're 330 parking spaces. We'll keep charging ahead to do anything we need to do,"
Although participating vendors and shoppers both benefit from the Farmer's Market, the real aim of the market is to support local small businesses: "that's how we originally started [in business] back in France," said Hirth. "We want to be a part of the community. We welcome local small businesses to bring tastings to the market, too, to help promote their own business. All they have to do is contact us."
He added that the goal of Four Seasons Markets is to put together Parker Square tenants with the 2,500 to 3,000 people who already attend the Farmer's Market each week.
"That's [the Farmer's Market] a great marketing tool and exposure for the Parker Square tenants to use to promote their businesses," said Hirth. "As tenants, they'll be allowed to hand out their business flyers or coupons or whatever, but others won't be able to. All the restaurants and stores in Parker Square will be seen by those thousands of people each week who wouldn't be there otherwise."
He added that with more space, the possibility for people to sit and eat, relax and listen to live music in the future will be possible.
"We've already got ideas for Halloween, like a pumpkin patch, plus a special event Christmas-holiday market that will bring people to town from all over"
The expansion of the farmer's market should make Flower Mound a destination location; before The River Walk's river is running.
"The move to more space and vendors and parking places will also mean more people will come from more places," said Hirth. "It's a win for everyone."