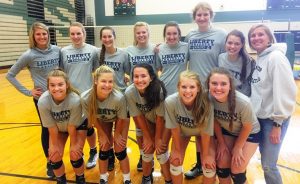 Kim Grizzle admits it's been a few years since Liberty Christian was a force to be reckoned with in volleyball. But the second-year coach feels she has the right pieces in place to change all that.
That's not to suggest the Lady Warriors, fresh off an 18-21 season, can nab their first TAPPS state title since 2006. But with a solid group of playmakers on tap – including a towering move-in at middle blocker – there is optimism that an extended season is not out of the question.
The 2016 season starts Tuesday, Aug. 9, at Denton High School.
"From last year to now, it's almost transformational," said Grizzle, whose team missed the playoffs in 2015. "It's still early, but the energy is positive and it's been fun to watch the girls' chemistry improve. The teams in our district are tough, but I feel like we will catch many of them off guard.
"I do feel like this is a team that can make the playoffs."
Liberty won't be a very big team overall in terms of height, but 6-foot-5-inch middle blocker Bailey Lewis is clearly an exception to the rule. Lewis, a sophomore, moved in from Sanger and is still learning her way in Grizzle's system, but she gives the team instant height and athleticism up front. She can also play right-side hitter, if needed.
Complementing Lewis are junior middle blocker/outside hitter Sabrina Simms and freshman newcomer Annika List. Grizzle said Simms has a rocket for an arm, and with List, another newcomer who will play opposite of Simms on the floor, the Lady Warriors should have a steady offensive spark to contend in district play.
Not to be outdone, this year's squad has three returning seniors in Dusti Scruggs (defensive specialist), Kaylee Tompkins (right-side) and setter Ashley Bostick.
"Because we are smaller, we need to be a scrappy team and make sure we are playing good defense and covering well for our hitters," Grizzle said. "There's still several spots to figure out, but it's a good group. I'm excited for this season."
Grizzle said she has been pouring a ton of time into her Middle School program and feels like, with a little time, Liberty Christian could recapture the magic of years past.
"The focus has been on getting them into the gym and getting better every day," Grizzle said. "When you do that, you win."