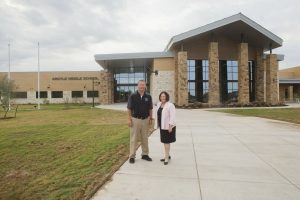 Officials from the Argyle Independent School District will officially celebrate the opening of the new Argyle Middle School this month, which will serve almost 600 students in grades six through eight.
The 154,536-square-foot school sits on 108 acres in the Canyon Falls master-planned community off of Hwy 377, where Flower Mound, Northlake and Argyle come together.
Argyle Middle School is part of a $45 million dollar bond package approved by AISD voters in May 2014.
At some point, depending on projected growth, the new middle school will be expanded with additional facilities to house Argyle High School while the existing high school becomes the middle school, officials said.
Up until now, sixth-graders attended Argyle Intermediate School and seventh- and eighth-graders went to Argyle High School.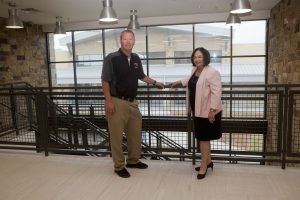 "As one of the region's fastest growing school districts, the new middle school will free up space in our intermediate school and high school, allowing us to maintain the small class sizes so important to the academic success of our students," said Telena Wright, Argyle ISD superintendent.
"And, the new technology in the middle school will provide our students with the tools and skills needed to succeed in both high school and college."
Current middle school principal Scott Gibson and current assistant principal Trevor Baker will be the administrators at Argyle Middle School.
The first level of the new school, at 118,858 square feet, includes administration space, a 75-student media center, band hall, 500-student cafeteria, a 452-seat competition gymnasium and physical education court with locker rooms and 20 classrooms. The second level, at 35,678 square feet, has 17 classrooms and six combined science classroom/lab spaces.
A ribbon cutting and dedication ceremony will be held on Saturday, August 20, at 6 p.m.
The new school is located at 6601 Canyon Falls Drive in Flower Mound.