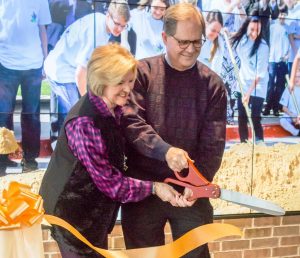 Liberty Christian celebrated a historic day in its 33-year school history on Jan. 16 when it held a ribbon cutting for the unveiling of new its facilities that will continue to provide students with an exemplary Christ-centered, college preparatory education.
Liberty families and visitors to the school toured the new two-story Upper School, new library, additional classrooms for Early Childhood and Lower School, a new Lower School gymnasium, and an extended Warrior Union at the entrance of the school.
From the platform in the new Warrior Union, Dr. Rodney Haire, President and Founder, thanked families who generously gave to see these new buildings and opportunities for students become a reality. He also thanked board members, the Master Planning Committee, and fellow staff members who gave so much of their expertise and time to see this ambitious project through. He also spoke of the school's early years at its original campus in Denton and how God has blessed and guided the school through its continued growth to reach students for Christ. He also quoted Scripture that has been instrumental in the school's history.
"In Isaiah 41:10, God tells us not to fear for He is with us and will strengthen us and hold us by His righteous right hand," Dr. Haire said. "Additionally, Jeremiah 29:11 tells us that He has plans for His people, to prosper them and give them a hope and a future."
Before he and his wife, Judy, cut the ribbon that officially began the student-led tours, Campus Pastor and alumnus Chris Searcy addressed the audience, reminding them of May 19, 2014, a day when the entire student body, teachers, and school officials celebrated two significant occasions – Liberty being named the top private school in Texas in the largest division of the Texas Association of Private and Parochial Schools (TAPPS) and the school's breaking ground on these new building projects. At that time, a student from each grade level presented a stone along with a biblical truth that would represent each class.
As Mr. Searcy held up a stone much like the ones that were dedicated, he said, "In the Old Testament, the Israelites gathered up stones to remember God's faithfulness in the past, and to trust Him with the promises of the future. In the New Testament, Peter gives the people of God, those that are in Christ, a new name, the 'Living Stones.'
"Our goal will continually to be 'Living Stones,' graduates who are secure in their relationship with Jesus and ready to walk across the stage ready to be leaders and influences to make a difference in this world."
Bregg Smith, Senior Director of Development, also spoke and thanked the Liberty family for its involvement in the Great Expectations capital campaign that raised support for the buildings debuted that day.
"It has been a project that required 'all hands on deck' as we kept God as our focus," Mr. Smith said.
He also thanked the board, as well as teachers, coaches, families, and graduates, who were so well prepared to succeed in college.
As he introduced Dr. and Mrs. Haire back to the platform, Mr. Smith added, "I have two children who are graduates of Liberty, and I was a parent here before I came on staff. Since working at Liberty, I have seen firsthand the dedication, endurance, and strength of Rodney and Judy Haire."
Dr. and Mrs. Haire then cut the ribbon and thanked the LORD and the Liberty family for such a momentous achievement in the life of Liberty.
Students then led visitors throughout the campus, showing them the new science labs in the new Upper School, the new library and its extended space, the new Music and Movement room for Early Childhood in one of the new ECE classrooms, and the new Lower School gym that will hold P.E. classes and lunches for kindergarten to 5th grade students next year.