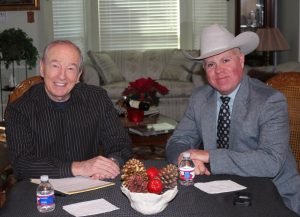 With law-enforcement seemingly under siege across the country these days, it's important to have good role models representing our policing agencies. Such a man is Tracy Murphree, who was recently elected to the office of Denton County Sheriff.
Mr. Murphree, who will be sworn in on January 1st, is eager to hit the ground running as he prepares to protect and serve residents for at least the next four years. In the video below, Sheriff-elect Murphree talks about his plans as the top crime-fighter in the county.
"The main duty of the sheriff is to take care of the jail," said Murphree. "Denton County has the 9th or 10th largest jail in the state. Almost $30 million of the $53 million budgeted goes to the jail. There are also a lot of other responsibilities, such as law-enforcement in rural Denton County. There's an investigations unit, a narcotics unit, SWAT teams, and things of that nature; general law-enforcement," he added.
"There's a Chief Deputy, which basically runs the day to day operations. There's an assistant chief over operations, which is the enforcement part of the sheriff's office, and an assistant chief over the detention function. Then, there are captains, lieutenants and sergeants which have various duties within the department. Denton County is under civil service rules, so, promotions are handled through the civil service system. Of course, promotions are earned through hard work and dedication, but, also, under civil service, you're required to take an exam and then there's an oral interview board that interviews candidates for promotion."
A Lone Star native, Murphree was born and raised in Yoakum County. He attended McMurry College in Abilene, Texas where he played football and majored in history with a minor in political science. In 1988 he was accepted into the Texas Department of Public Safety (DPS) Training Academy and was commissioned as a State Trooper, assigned to Cochran and Hockley Counties. In 1993 he transferred to Denton County, and after a few months was promoted to Sergeant in the Texas Highway Patrol and stationed in Pecos. During his time as a sergeant he supervised 12 Highway Patrol Troopers in five counties.
In 1996 Murphree was promoted into the DPS Narcotics Service and stationed in Houston, where he conducted narcotics investigations, including working undercover. In addition, he worked on many major drug and currency seizures working together with the DEA, FBI, Houston PD, and the Harris County Sheriff's Office. Murphree said his dream came true in 1998 when he was selected to be a Texas Ranger and assigned to Denton County. He also covered Cooke County. As a Ranger he was responsible for major investigations including homicide and public corruption. During his time as a Ranger he was involved in most of the major investigations and trials in Denton County. Among other encomiums he received during his time as a Ranger, he was awarded the DPS Directors Citation for his work as a hostage negotiator.
Evidently, the newly elected Sheriff enters the office with a well-rounded resume' which will undoubtedly provide the necessary experience for the job of keeping the peace in the ninth most populous county in Texas. With a resident population of about 700,000, with eight independent school districts, three colleges and several private schools, the job of keeping people safe is no walk in the park. However, with a professional team of officers, directed and staffed by skilled administrators, we can look forward to a secure environment for ourselves and our families.
Bob Weir is a former NYPD officer, long-time Flower Mound resident and former local newspaper editor.