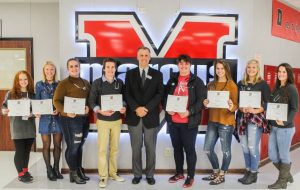 Marcus High School Anatomy students recently received the Striving for Excellence award sponsored by Walgreens in Highland Village.
The award, which includes a certificate and a stethoscope, is presented each term to students who show both leadership ability and superior academic achievement.
The recipients this term were: Tara Novais, Katie Puckett, Taylor King, Dylan DeVries, Lauren Lyczak, Emily Perez, Emma Barr and April Clark.