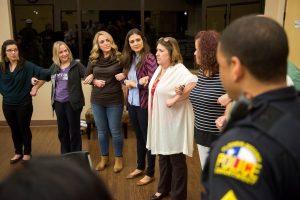 The loss of a family member or friend to suicide leaves the survivor feeling alone and unsure of where to turn for help.
The loss of three young Flower Mound residents since Oct. 15 –young men ages 17, 21 and 16– has created pain and left many with unanswered questions about suicide; an uncomfortable subject of conversation.
"I know LISD is addressing the tragedies with our kids," said Tina Johnston, a licensed psychotherapist and executive life coach based in Flower Mound. "We have a good school district that cares and wants to provide the best quality resources to parents and students."
As part of the LISD program, "Creating Resilient Teens," two videos were shown at a Parent Education Night as part of the introduction and implementation of the curriculum in its middle and high schools.
One video featured Tamara Thaden Castaneda whose son, Nick, committed suicide on Aug. 20, 2013 by gun shot while he was at his father's house in Grapevine; he was 17 years-old.
The second video will be shown to parents and students in an area middle school for a suicide awareness presentation that will be conducted in a small group setting.
"Nick was not what people may think of as the 'stereotypical' suicidal teenager; the 'loner' kid in the Goth-style clothes," said Castaneda. "He was popular, an Eagle Scout, had a girlfriend, was active in church and had not been bullied. He didn't know how to admit he needed help, because he didn't know how to handle failure.
"When you lose a child, you stop and re-assess. In communities like Flower Mound, we have high expectations for our children and will jump to bring forgotten homework up to school or fill other responsibilities that are theirs; and, so they don't get to learn how to manage failure when it's little, before it becomes bigger things when they're older.
"In the home, they need to be able to feel it's okay to make mistakes. We end up comparing our 'worst-self' to everyone's 'best-self.' Everyone has a gift or talent and we should look for that. As parents we're falling into this comparison trap. It's okay for people to make mistakes; and, they need to know– and have proof—that they're loved, no matter what."
Castaneda, her husband and family participated in the 10th Annual Touched by Suicide walk on Nov. 5 at Parker Square. In an attempt to increase awareness, in April 2017, the family plans to present a new interactive family event, "Life Is Messy," to present the resources available for a new way to interact as a family.
She recommended some parenting books about helping children develop resiliency: The Gift of Failure; The Price of Privilege; Mindset: The New Psychology of Success; and, The Entitlement Trap: How to Rescue Your Child with a New Family System of Choosing, Earning and Ownership.
"Suicide rates have been increasing in most age brackets very recently," said Johnston. "Suicide is not a 'school' problem; it is a societal problem and involves many factors.
"Depression is the number one cause of suicide and should not be ignored. People need to be encouraged to see a mental health professional. Research suggests the best treatment is a combination of psychotherapy and medication. There are many excellent therapists here in town for all ages, plus the Sante Center for Healing in Argyle has an outpatient clinic with psychiatric care."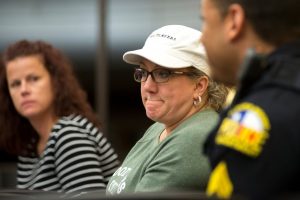 In conjunction with the Sante Center, Johnston facilitated a Community Suicide Awareness Event at the Wellington Amenity Center on Thursday, Nov. 17.
Even those not directly affected can suffer from the effects of grief, especially children. Johnston said most psychotherapists deal with grief, as well as depression and anxiety. Johnston recommended an article about the five-stages of grief which could be helpful. http://psychcentral.com/lib/the-5-stages-of-loss-and-grief/.
She suggested the Wellness Association of Flower Mound, flowermoundwellness.org, which she founded, as a possible starting place.
"I know people are frustrated about where to look for information; it's frustrating for us [providers], too," said Johnston. "It would be helpful for everyone if there was a universal information resource. Now it's a bit like the first responders after 9/11 when different groups couldn't talk to each other."
Denton County MHMR Center is a local nonprofit community center specializing in the treatment of– and service delivery to– Denton County individuals with a mental health diagnosis or a developmental disability diagnosis. The staff works with individuals, families and other community organizations, plus service providers to develop person-centered treatment plans.
If you or a member of your family are struggling with thoughts of suicide, depression, or mental illness, Denton County MHMR Center is available to help. The Crisis Hotline/Intake/Referral line is:  1-800-762-0157.
The LOSS (Local Outreach to Suicide Survivors) Team of Denton County is available for immediate support and resources to individuals impacted by suicide. Team members are volunteers who have been touched by suicide themselves and have received professional training. The LOSS Team is available 24-hours-a-day every day at 940-205-6706.
In addition, Captain Wess Griffin of the Special Services Division, Flower Mound Police Department, also suggests the SROs (School Resource Officers) are on campus and will be valuable resources for students, parents, staff and administrators within the school district.
 For those in a crisis, call the Suicide Prevention Lifeline, 800-273-TALK (8255).
ADDITIONAL RESOURCES:
 Touched By Suicide (TBS) support groups offer a comfortable setting where sharing and support is provided to anyone who has experienced the death of family or friend by suicide.  These groups are open to parents, spouses, siblings, and other relatives and friends.  Support groups may not be for everyone or it may take a few meetings for the process to work for you, but they are a big step for many people in learning to deal with their pain.
Touched By Suicide – North Texas can be reached at either: 972-595-8124, which is not a crisis line, or 972-420-7270.
Information about: TBS Support Groups for Adults (ages 18 and older); and, TBS Support Groups for Teens (ages 13 to 17) are available by calling or at: [email protected]
Local TBS Support Group meetings:
Flower Mound: Trinity Presbyterian Church Library Room (inside church), 5500 Morriss Road, Flower Mound
First Tuesdays at 7 p.m. Facilitators:  LaNelia Ramette, email:  [email protected]
Lewisville: Vista Ridge United Methodist Church, Wesley Hall (brick building behind church), 2901 Denton Tap Road, Lewisville
Second Thursdays at 7 p.m. Facilitators:  Martha Giles and Kim Bremer, [email protected]
Denton: St. Mark's Catholic Church Religious Education Bldg., Room 105, 6500 Crawford Road, Denton
First Thursdays at 7 p.m. Facilitators: Carol and Larry Walker, [email protected]
Online Resources:
Denton County MHMR Center (www.dentonmhmr.org)
National Alliance on Mental Illness (www.nami.org)
Grant Halliburton Foundation (www.granthalliburton.org)
SOS – Survivors of Suicide (www.survivorsofsuicide.com)
AAS – American Association of Suicidology (www.suicidology.org)
SAVE – Suicide Awareness\Voices of Education (www.save.org)
The Jason Foundation (www.jasonfoundation.com)
Survivors Road2Healing (www.road2healing.com)
The Jed Foundation (www.jedfoundation.org)
The Compassionate Friends Bereaved Parents and Siblings (www.thecompassionatefriends.org)
SIEC – Suicide Information and Education Center (www.suicideinfo.ca)
AFSP – American Foundation for the Prevention of Suicide (www.afsp.org)