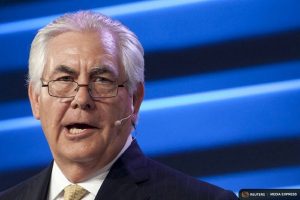 by Patrick Svitek, The Texas Tribune
President-elect Donald Trump has officially picked Texas oil executive and Bartonville resident Rex Tillerson to be secretary of state.
Tillerson, who is CEO for Exxon Mobil, is the first Texan selected by Trump for his Cabinet.
"Rex knows how to manage a global enterprise, which is crucial to running a successful State Department, and his relationships with leaders all over the world are second to none," Trump said. "I can think of no one more prepared, and no one more dedicated, to serve as Secretary of State at this critical time in our history."
Born in Wichita Falls, Tillerson is a distinguished alumnus of the University of Texas at Austin.
Tillerson has spent more than four decades at Exxon Mobil, becoming its chief executive in 2006. He was due to leave company in March, when he will reach the company's mandatory retirement age of 65.
Among Texas Republicans, early reviews of Tillerson's nomination were positive. His nomination was cheered by multiple congressmen, fellow oilman T. Boone Pickens, Lt. Gov. Dan Patrick, Railroad Commissioner Ryan Sitton and U.S. Sen. John Cornyn.
"I commend President-Elect Trump on his nomination of Rex Tillerson as Secretary of State. This prominent position in the Administration is tasked with the delicate balance of working to ease tensions around the globe while also ensuring U.S. national security and a strong foreign policy agenda," said Congressman Michael Burgess (R-Pilot Point).
"Mr. Tillerson, a constituent of mine in the 26th district of Texas, has worked extensively with foreign leaders cultivating relationships that will only prove to benefit U.S. interests around the world. From the pipelines to the platforms, his experience leading the global efforts of one of America's most successful companies has equipped him with the understanding and insight to navigate the current world stage. Congratulations to Mr. Tillerson on this honorable nomination."

Portions of this article originally appeared in The Texas Tribune.