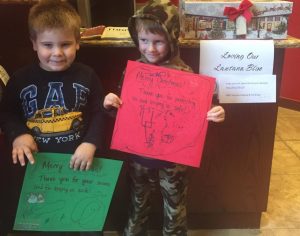 A group of Lantana residents want to spread some cheer to local law enforcement personnel this holiday season.
Organized by Brenda Long, caretaker for longtime friend and Lantana resident Janice Bramen, the Loving Our Lantana Blue initiative is something she calls a "card shower." She wants people to write holiday cards to law enforcement officers living in Lantana.
"We wanted to do something to thank them especially at this time of year when we're giving gifts and remembering everyone," said Long, whose son has served 21 years on the Tulsa County (Okla.) Sheriff's Department.
The effort, which started Dec. 5, goes until Dec. 21. Long hopes to have the cards delivered to area agencies a few days before Christmas to distribute to personnel they know live in Lantana including members of the Denton County Sheriff's office, FBI and Homeland Security.
Loving Our Lantana Blue would like each person to write six greeting cards and drop them off at the State Farm Office of Jim Bridges in Bartonville Town Center or the new RE/MAX Elite office of Cassandra Homer in Lantana Town Center near Kroger.
People are asked to address the cards anonymously with personal sentiments of appreciation and gratitude. If they like they can even include a gift card or gift certificate from an area business or restaurant.
"The whole purpose is to give an expression of gratitude, pride and appreciation to their service because I know for a fact from my son being in law enforcement that they are on duty 24/7 whether they're on the clock or not," Long said.
"They make a lot of sacrifices for their families because they're often called on to work on a holiday or short notice and they work odd hours and their families can't always do things together."