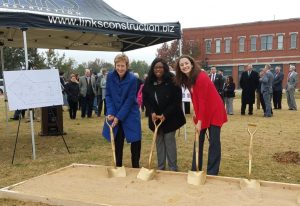 Officials from Midwestern State University and North Central Texas College broke ground Tuesday on a new shared facility in Flower Mound.
The 30,000-square-foot, two-story building in Parker Square will house classrooms, two science laboratories, a combination laboratory and lecture classroom, three interactive television classrooms, and two seminar classrooms.
The facility also will have tutoring and study space, administrative and faculty offices, a bookstore with a coffee bar and grab-and-go food items, and a conference room that will be available for community use.
The space will be shared with NCTC, along with the bookstore and tutoring center. NCTC will also teach classes and house faculty and staff in the facility. NCTC already has an established campus in Parker Square that opened in January 2011 and serves 2000 students.
The two schools, which share founder Randolph Lee Clark, will allow students to earn an associate's degree and then move on to earn a baccalaureate degree on the same campus.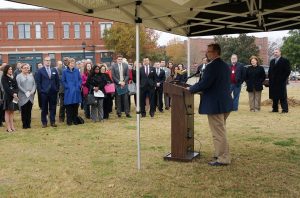 Flower Mound Councilman Don McDaniel was among the guest speakers at the groundbreaking, expressing excitement for both the revitalization of Parker Square and the positive impacts that will come from having a four-year university in town.
"MSU is going to be a huge resource for our citizens, a boon for business, and a great partner with our town," said McDaniel.
Beginning in fall 2017, MSU will offer junior and senior-level courses in Radiologic Sciences and Respiratory Care, nursing courses for the RN to BSN program, and graduate Education classes. Future offerings include business courses, including MBA classes.
Leasing terms are 10 years with two five-year renewal options, and the option for MSU to purchase the building after both five and 10 years.
The expansion is part of MSU President Suzanne Shipley's goal to grow the university by 2,000 students in time for the university's 100th birthday in 2022. She hopes to add 1,500 students at off-campus locations and 500 students on its main residential campus in Wichita Falls.