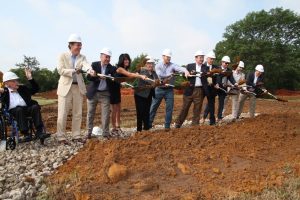 Realty Capital Management broke ground Tuesday on The Lakeside Tower, a 15-story luxury high-rise condominium on Lake Grapevine in Flower Mound.
Richard Myers, founder of Realty Capital, said the Town of Flower Mound has been a great supporter of the project.
"The Stewart family of Dallas who owns the project, they really started the Lakeside concept, and they tried for decades to really get the project going, but it took the leadership and political courage of Mayor Tom Hayden and the town council to approve the entire development," said Myers.
"As a testament to their vision, on basically about two acres of land, today we're building a $70 million building."
Myers said that Peter Stewart, who is 96 years old, bought the property almost 50 years ago and has worked with Realty Capital Management for the past five years.
"This tower and this project is his vision."
There will be only 48 units available and each one offers a view of Lake Grapevine. The Tower's lobby will be designed to have the look and feel of a high-end hotel, complete with a 4,700 square foot luxury spa.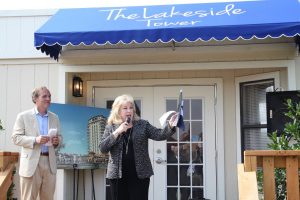 Texas State Sen. Jane Nelson of Flower Mound also spoke at the ceremony and has the distinction of being the first to purchase a condo at the Tower.
"This is the most exciting thing we've seen happen here in a long time because I think it is just the beginning of a whole lot of other exciting things," said Nelson.
The Lakeside Tower will be a part of the 150-acre master planned Lakeside DFW master-planned development with a variety of homes, restaurants, shops, cafes, hotels, and a boardwalk.
"We think the ramifications from this building are going to be tremendous and far-reaching," said Myers. "I'm really looking forward to seeing how this changes Flower Mound and this area."