Argyle Planning & Zoning Commissioners liked what they saw last Tuesday night and unanimously recommended zoning changes to bring retail, restaurants and homes to 105-acres at the southeast corner of Hwy 377 and FM 407.
Bret Pedigo, partner of Terra Manna LLC of Southlake, presented commissioners a mixed-use vision for Waterbrook, a future heart-of-Argyle development.
The proposal includes 287-single-family homes, with 210 of them a mix of 6,000-square-feet and 9,000-square-feet lots; the remaining 77-lots are designated as 40-foot detached patio homes.
There are approximately 23-acres designated for commercial uses that include retail, restaurant, office, and personal services.
Plans call for approximately 191,000-square-feet of commercial/retail space, with approximately half of that being designated for a grocery store.
Pedigo did not specifically name potential tenants at the meeting.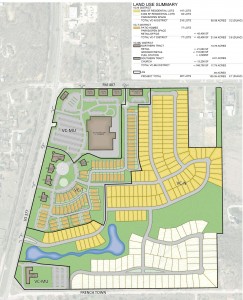 The proposal also designates 24-acres of open space throughout the development, which includes an amphitheater with grass terrace seating, walking trails, plazas, landscape buffers and floodplain/lake areas.
The majority of the property is undeveloped and is comprised of open land and densely-treed areas.
A detailed tree survey will be submitted by the developer, which will be required to meet the tree preservation ordinance; including labeling all protected trees and providing mitigation details for any protected tree that will be removed.
Two churches currently operate on the property; Oak Hills Community Church and Argyle Church of Christ.
"The developer is proposing to move one of the churches to the corner of Frenchtown and Hwy 377 and the other church would be moved further east down FM 407," said Matt Jones, Argyle's Director of Community Development.
Water and sewer lines are available to be extended to the site with sufficient capacity to serve the development.
"The TRA [Trinity River Authority of Texas] line is currently south of Liberty Christian. This development would act as a catalyst to get the sewer line built which would open up capacity in the south-central portion of town. Funding would take the form of some kind of public/private partnership," Jones said.
Letters were sent out to surrounding property owners within 200-feet of the property. Two letters from residents, one neutral and one in opposition, were submitted. At the meeting, one citizen spoke in opposition of the project and two were in favor.
"The developer approached the town with a quality project and the Planning & Zoning Commission felt that it was compliant with the future land use plan and the vision that the form-based code laid out for that location," said Jones.
Town Council will consider the rezoning requests at their meeting on Tuesday, April 26.