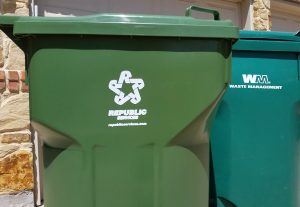 Flower Mound residents will have to get used to blue trash bins and green recycling bins come October.
Town Council members last week selected the nation's second largest solid waste and recycling provider, Republic Services, as the town's new provider beginning Oct. 1 through Sept. 30, 2021.
The town's bid request was the result of Waste Management's Oct. 5, 2015 notice of an almost double residential price increase for the next five-year contract.
The May 16 council meeting was the second of the mandatory two readings during regular council meetings required to confirm the five-year contract.
Republic has pledged to donate $5,000 annually to the Keep Flower Mound Beautiful organization as part of their agreement with the town.
"We're not looking for just a service provider, this is a partnership," said Councilman Kevin Bryant.
The move from Waste Management to Republic is the second such switch this year by a local municipality. Lantana officials made the change in February.