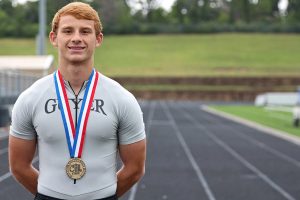 Guyer High School senior Ethan Toy won the University Interscholastic League's 6A long jump championship on May 14, giving the Wildcats their first state track and field title ever.
Ethan won the long jump in the UIL's largest classification with a leap of 23 feet, 8 inches, surpassing his closest competitor's best jump by nearly half a foot. The distance marked a personal record for Ethan, who had three jumps exceeding 23 feet at the state meet – the only contestant with more than one jump greater than 23 feet.
Going into the state meet, Ethan had the fourth-best qualifying mark of the nine 6A long jump contestants from their regional meets. He had experience from last year, however, when he finished fifth at the state meet.
"I practiced a lot more this year, staying after school even longer, so I was confident going in," Ethan said. "I definitely learned how much work it takes – you can't just win the state meet with raw talent; you've got to put in the hours. Words really can't explain how excited I was when I finally won the medal. It was absolutely icing on the cake of all that hard work."
The state track meet was delayed by nearly six hours because of lightning when Ethan was set to compete, changing scheduled event times. As a result, Ethan and seven other student-athletes completed all six of their jumps before the final competitor had even taken a single jump, as he was competing in running events throughout the day's condensed schedule.
Despite the unusual situation, Ethan said he wasn't too nervous.
"No one else was really jumping well, but I put together a string of good jumps," he said. "You're always a little nervous, but I knew I did what it took."
Ethan's jumping prowess has earned him a track and field scholarship with the University of South Dakota, where he hopes to eventually compete in high-level NCAA competitions.
J.D. Aaron, head coach of the Guyer boys track and field program, said Ethan has served as a role model for other student-athletes, being willing to try new events – such as running the leadoff leg of the 4×100-meter relay – to help his team.
"Ethan's so easy to coach, with great talent and a great work ethic," he said. "We're going to miss him on our team for everything he provides – from his individual success to his leadership to his positive attitude. He had the meet of his life with several consistent jumps, and it was great seeing a kid like him go out on top."