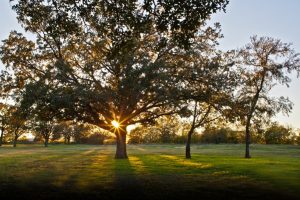 The final item on Planning & Zoning Commission's Monday meeting agenda was a public hearing to consider approval of amendments to the town's Tree Ordinance. The majority of the current Tree Ordinance will carry over largely unchanged.
The topic was trees and Flower Mound, plus amendments dealing mostly with developers. The fact that only six people spoke– including a Lewisville landscaper and a representative from the Dallas Builder's Association—was astounding.
Environmental Services Environmental Review Analyst Jimmy Hoefert presented the proposed LDR16-0002 – Tree Ordinance Amendments for Chapter 94 of the Land Development Regulations of the Town's Code of Ordinances. [The item begins on Page 217, with specific wording changes starting on Page 220 of: www.flower-mound.com/AgendaCenter/ViewFile/Agenda/05232016-2263]
The Environmental Conservation Commission recommended approval by a vote of 6-0 at its May 3, meeting.
Following Hoefert's presentation, the major concerns raised by both the public speakers and the Commissioners focused on: developer tree credits for voluntarily preserving specimen trees, especially Post Oaks, in non-buildable areas; reducing the size of specimen trees to be approved by the Environmental Conservation Commission (ECC) and Town Council for removal from 25-inch-calipers to 19-inch-calipers; and, the potential additional costs to developers for protection measures related for additional trees included under the smaller caliper measurement.
Of specific concern is the impact of the amendments on future developments in the more heavily-wooded Cross Timbers area in western Flower Mound.
Local developer Reginald Rembert advised that staff: "should examine what happens with larger western Flower Mound sites with 300+ trees, not just what happened in past projects in areas of town with fewer trees. The average cost to a developer to install non-reusable [protective chain] link fencing is $1,500 per tree."
Economic Development Director Mark Wood said that there should be data from some newer developments in the Cross Timbers area that can be examined.
"We're trying to preserve as many Post Oaks as we can," said Hoefert. "And, we'll now include credit for saving a tree—to preserve some of those trees that are over 100-years old. You simply can't go out and buy a replacement Post Oak."
Dave Johnson said that more information should be gathered for the pass-on additional costs to property owners and what the cost to the town will be for enforcement.
"If people assume every specimen tree can be saved, that's not true," said Kendra Stephenson. "We need to look hard at the Cross Timbers, where there's a large number of Post Oaks."
Place 8, Alternate Commissioner Al Linley said the objective of the amendments is to make the ordinance clearer and easier to understand.
"As far as its impact on future developments, I would recommend taking the framework and seeing how it applies to the different areas of town and the topographical diversity within the town."