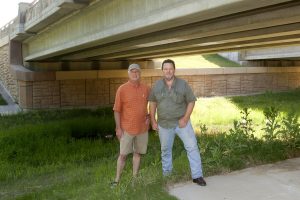 Imagine more than one-million guys and gals with short necks, fabulous torsos, slim hips and great legs.  They live rent-free, sleep all day, party all night and spend every winter in fabulous, sunny Mexico.
If this sounds fantastic– and your mouth waters at the thought of eating fat mosquitoes– you should have been born a bat.
Former entomologist and Agri-Life County Extension Agent James Lee of Flower Mound got thinking about municipal mosquito eradication efforts that include insecticide spraying into the night air.  He and friends Mark Glover and Dawl Long wondered if there might be a way to bring back local bats, whose habitats were replaced by urban growth.
The trio discovered if humans build bat homes, the displaced animals will return to the city.  At that "Ah-ha!" moment the Cross Timbers Bat Initiative (CTBI) was born.
Bats are the only mammals which truly fly. The roughly 1200 different species of bats worldwide all share this unique ability. Members of the order Chiroptera (Latin for 'hand-wing') have elongated arm and finger bones, covered with a thin, flexible membrane. Unlike birds, which can easily push up into flight from the ground, bats roost upside down and drop into flight. Bats have an amazing variety of facial features, ranging from the fox-like faces of the larger fruit bats (called 'flying foxes') to features that are describes as being similar to a dog or a bear. Still others have exotic folds and wrinkles, nose leaf structures, or exceptionally large ears.
Seventy percent of the 1200 bat species are insectivorous, meaning that they feed exclusively on insects. A single Mexican free-tail bat, which weighs less than a half ounce as an adult, can consume nearly 16 million insects in its lifetime. Multiply that by the number of bats in a typical colony, and the impact is huge.
The majority of the other 30% of bat species feed on fruit and nectar, and approximately one percent consists of carnivorous bats that feed on small reptiles and amphibians, and the three species of vampire bats. Vampire bats are very small, weighing less than an ounce as adults, and each bat consumes approximately 2 teaspoons of blood per night. All three species are found only in South America.
There are 45 species of bats found in the 50 United States and Canada; of those, 42 species are insectivorous and 3 species feed on nectar. Thirty-four species call Texas home. Because of the wide range of climates and habitats in Texas, there are more bat species here than in any other state in the U.S.
So, what do bats do while the rest of us are catching Z's after sundown?  Well, they eat, of course.  The insectivores zero-in on dinner using personal sonar equipment.  The little guys emit a high pitch screech, then listen until the sound waves bump into some object.  In southern Denton County, the menu is always the same, mostly mosquitoes.  Got West Nile or Zika viruses?  Not a problem!
Explosive construction cleared out the natural bat habitat in southern Denton County.  Excuse the pun, but the little fliers like to spend down time "hanging out" upside down in places that remind them of caves, crevices, burrows and even in trees and under rocks.
CTBI learned the human-manufactured answer to the habitat problem, pioneered by a bat-friendly Fort Worth group called Bat World, is a plywood slats and net invention called the Texas Bat Abode.  Bat World actually moved a nuisance colony from the Weatherford/Mineral Wells-area out to Cool, Texas, where life is good for everyone concerned.
"A Texas Bat Abode fits nicely between freeway bridge beams," Lee said, "Its occupants aren't in anybody's way and [they] enjoy the heat the bridges retain.  CTBI's goal is to install about six-abodes under town-owned bridges in Flower Mound and Highland Village."
Glover added: "Ultimately, we envision having nature's mosquito patrol under TxDOT bridges, in parks and even in private yards."
To all these ends, the CTBI team met with Bob Monaghan, Lewisville's director of Parks and Leisure Services.
"It turned out the biggest problem facing us is tourist parking," Lee said.
The world's largest urban bat colony, an accidental tourist attraction that brings out 100,000 admirers and $7.9 million into Austin's coffers annually, resides under the road deck of the city's Congress Avenue Bridge.
"We'd like to replicate that in our area by creating a day-roost/nursery structure under the Interstate 35/Lake Lewisville bridge," Mark said.
Austin's bridge colony is over 1.5 million bats strong.  Visitors to the capital come out on summer evenings to witness the flight of the bats across Lady Bird Lake.
"The bridge needs to be one with a solid concrete deck, 10-feet above the ground or water, over or near a lake," Lee said, "and with no obstructions that keep the bats from getting in and out of the roost."
CTBI envisions Texas Bat Abodes under the I-35E bridge will house over 200-bats per square feet for a total of one-million animals.
"The bridge will have a bike and pedestrian walkway that will be a perfect place to watch the evening flights."
It will also be accessible to the DCTA Highland Village/Lake Lewisville station.  People visiting Copperas Branch East Park will be able to watch from under the bridge.  Bat watchers can even come from downtown Dallas via DART; or, take a lake cruise at sunset.
"Our goal," Mark said, "is to have the abodes installed by late May."
Wait a minute!  Don't bats carry rabies?
Bats are infected with rabies the same way any other mammal would be – by being bitten by a rabid animal. According to the CDC, though, less than ½ of one percent of all bats are infected with rabies. Our chances of being infected with rabies from a bat bite are lower than our chances of being struck by lightning twice, or of being in an airplane when it collides with a bird.
Janet Hurley, a program specialist with the Texas A&M AgriLife Extension Service, said "–per bat colony, the rabies incidence is very low [in Round Rock]."
"That said, bats are wild animals, so rabies could be an issue," Lee warned. "The important thing is public education.  Never handle any wild animal, especially a very still one."
Phase II of the CTBI project will be to make bat houses available for sale to the public.  "We envision construction by scout troops, clubs and civic groups."
For more information about Texas bat colonies, visit: www.batworld.org, the website for Bat World Sanctuary Inc., Weatherford, Texas.  Also, take a look at www.batcon.org, the site of Bat Conservation International (BCI) of Austin, Texas.
To join the Cross Timbers Bat Initiative call James Lee at 972-754-9064, or Mark Glover at 214-550-5017.