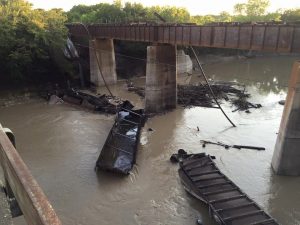 UPDATE: Hwy 377 will remain closed until 6 a.m. Tuesday between FM 1171 in Flower Mound and Bobcat Blvd. in Roanoke. The road will be open from 6 a.m. to 9 a.m. and 3 p.m. to 6 p.m. on Tuesday. There will be periodic lane closures otherwise and motorists should use I-35W as an alternate route.
———————————
A coal train derailed at Denton Creek on Sunday evening, causing Hwy 377 to be shut down between FM 1171 in west Flower Mound and Bobcat Blvd. in Roanoke.
Union Pacific spokesman Jeff DeGraff said that 26 train cars derailed and Roanoke Police reported that five of them fell into the creek, which feeds into Grapevine Lake.
The train was not carrying any hazardous material and no injuries were reported, DeGraff said. No other vehicles were involved in the accident.
"Early reports is that there is damage to the [railroad] bridge," said DeGraff. "It is too early to tell just yet if the bridge damage was the cause of the derailment or if the bridge was damaged in the course of the derailment."
Hwy 377 will be closed on and off for a couple of days as recovery and repair efforts continue. Motorists should use I-35W as an alternate route between FM 1171 and S.H. 114. (See live traffic map here.)
"We are working with local police in the area as we get this cleaned up in the next day or so," said DeGraff.
DeGraff said the accident was not related to the railroad crossing maintenance project in Argyle on Saturday.
Some pictures from Chopper 11 at the scene where the train derailed in Roanoke. pic.twitter.com/pt6muGQsDX

— CBSDFW (@CBSDFW) August 22, 2016
Crews on the scene of a train derailment in Roanoke off of highway 377 @FOX4 pic.twitter.com/Wt2Rh3VgEU

— Shauna Jackson (@kdfw14) August 22, 2016