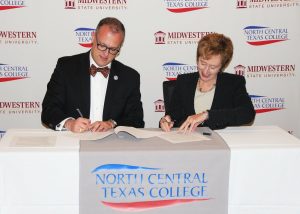 Parker Square is set to have educational bookends by this time next year; the two-year NCTC (North Central Texas College) to the west and a new four-year MSU (Midwestern State University) 30,000-square-foot, two-story home in a brand-new building on the east side.
At the Aug. 15 Town Council meeting, Curtis Shore—representing Parker Assets I, LLC, which owns five of the nine buildings in Parker Square—announced the coming of the satellite MSU campus to be housed in the soon-to-be-constructed sixth building owned by the development group.
Shore announced the news, which was approved at the MSU Board of Regents' Executive Committee on Thursday, Aug. 11, in Wichita Falls. The MSU partnership with NCTC green-lights the continuing school's expansion into the Dallas-Fort Worth region.
NCTC is made up of five campuses, one each in Bowie, Corinth, Gainesville, Graham and Flower Mound. Those campuses serve 12,000 to 13,000 students annually. The Flower Mound campus is the college's newest. It opened with 800 students and now serves 2,000.
The two schools, which share founder Randolph Lee Clark, will be partnering on a new arrangement, which will allow students to earn an associate's degree and then move on to earn a baccalaureate degree on the same campus.
The expansion is part of MSU President Suzanne Shipley's goal to grow the university by 2,000 students in time for the university's 100th birthday in 2022. She hopes to add 1,500 students at off-campus locations and 500 students on its main residential campus in Wichita Falls.
"The school wants to be in to start classes in August 2017," said Shore. "We've been working with a space planner and an architect for about 30-days. This will allow residents to obtain a four-year degree."
The new building is tentatively set to house eight classrooms, a combination of lecture halls/laboratories and interactive television classrooms. MSU eventually also sees the building as housing an MSU admissions office and an IT office.
The two schools will share a bookstore, tutorial center, lounge space, community learning center and a food service contract, as well.
Next August, Flower Mound residents can expect to see MSU Mustangs wearing maroon and gold spirit gear as they grab a coffee, a snack or lunch in Parker Square.
About Midwestern State University
The main campus is located in Wichita Falls. It is one of 36 public higher education public institutions in Texas and is the only university in Texas to become a member of the Council of Public Liberal Arts Colleges (COPLAC).
The 255-acre campus is within the city's residential area and comprises 70 buildings, numerous playing fields and an outdoor recreational facility near Sikes Lake.
Since its founding in 1922, Midwestern State University has grown from a local junior college to a regional state university serving a wide and varied public.
Created as Wichita Falls Junior College– the second municipal junior college in Texas– its earliest home was in Wichita Falls High School, with which it shared both the building and faculty. Later, a legislative act and a vote of the people of Wichita Falls set up a separate tax district to support the junior college.
In 1937, the college acquired a new, 40-acre campus of its own on the south side of town. Also in that year, the college was renamed Hardin Junior College in honor of Mr. and Mrs. John G. Hardin.
During World War II, the establishment of Sheppard Field, later renamed Sheppard Air Force Base, added to the college's public. Since that time, air base personnel and their families have been continuing participants in the campus academic programs.
The post-World War II years brought more change in the school's mission and in its name. In 1946, the senior college division was added and the name was altered to Hardin College.
In January 1950, the name changed to Midwestern University, the junior division remaining Hardin Junior College.
In March 1948, the university became a member of the Association of Colleges and Secondary Schools. In January 1959, the university added a graduate school, which received full approval from the State Board of Education that August.
A further change in the school's status came September 1, 1961, when by action of the 56th Legislature of the State of Texas, Midwestern University became a part of the Texas Colleges and Universities System and the junior college division was dissolved. In 1975, the Texas Legislature changed the name to Midwestern State University.
From its beginnings as a municipal junior college housed in a high school building, Midwestern has become a state university whose campus of 255 acres and 70 buildings offers a wide variety of academic programs in liberal and fine arts, mathematics, sciences, business and applied sciences.