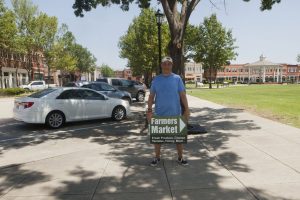 The Flower Mound market has been such a quick success, it needs to relocate to a larger space.
Starting this Saturday, August 20, the Four Seasons Farmers Market will open in Parker Square, instead of its original location on Town Hall property.
Since its start, the community has overwhelmingly supported the Farmers Market, causing it to quickly outgrow its space and parking access.
During the July 18 Town Council meeting, an update on the status of Parker Square and its increased occupancy rate by developer Curtis Shore was received with enthusiasm from the council members.
His presentation also led to a discussion about the possibility of moving the temporary location of the Farmer's Market from the Town Hall parking lot to Parker Square.
Thanks to Town Council approval during the August 15 council meeting, the Four Seasons Farmer's Market move to Parker Square will mean more parking spaces and the opportunity for more vendors.
For more information about the Farmer's Market, visit www.fourseasonsmarkets.com.