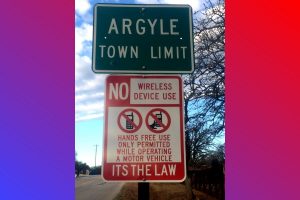 Argyle's new hands-free law is now in effect, making it illegal for anyone to use a handheld cell phone or electronic device while driving.
"Our signs are going up around town and the police department will begin to issue warnings to inform the motoring public," said Argyle Police Chief William Tackett.
"We will not issue citations for this offense until May 1. The fine for this can be up to $200 per offense."
The Argyle Town Council unanimously adopted an ordinance prohibiting the use of portable electronic devices while driving at its Nov. 17, 2015, council meeting.
The ordinance means that drivers may no longer engage in a phone call, send a text, take or view photos, scroll through their favorite playlist, read email, play Candy Crush or enter GPS coordinates into a mobile device while the vehicle is in a lane of traffic or in motion on public roads.
Exceptions to the new ordinance include: using the vehicle's built-in navigation system or using the phone in an emergency situation.
Utilizing your vehicle's Bluetooth system or phone's wireless earpiece can help prevent an accident and keep you from getting a ticket.
For more information, contact the Argyle Police Department at 940-464-7254.