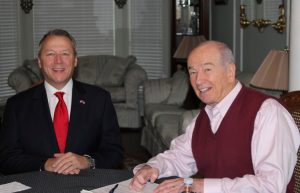 In May 2012, after personally knocking on more than 3,000 doors in House District 65, Ron Simmons won a three-way primary and earned the Republican nomination for State Representative. He went on to win the November election and was sworn in on January 8, 2013.
District 65 encompasses about half of Highland Village, a large part of Lewisville, and portions of Carrollton, Coppell and a tiny part of Dallas, all of which is in southeast Denton County.
During his first term in the Texas House, Mr. Simmons successfully authored and passed legislation protecting First Amendment rights and the integrity of Texas' election process. He also authored and passed legislation standardizing the treatment and coverage of autism spectrum disorder; landmark legislation that will lead to earlier diagnoses, better outcomes for individuals on the spectrum, and lower costs for insurance providers in the future. Additionally, he co-authored House Bill 2, a historical pro-life bill that increases protections for women and unborn children at abortion facilities. He also co-authored House Bills 500 and 800, two bills expected to bring almost $1 billion in tax relief. He was honored to be named the "Most Valuable Player" of the 2013 Freshman Class by Capitol Inside.
Simmons, the son of public school teachers, grew up in rural southern Arkansas. After graduating from high school he began his studies at Southern Arkansas University, working in the mail room of a local company to help pay for his education. While attending college he met his wife, the former Lisa Dickson of El Dorado, Arkansas, and they were married in 1980. Ron and Lisa moved to Dallas in 1985 where he began working in the financial industry and completed his college education. He earned a Bachelor's degree in Business from Dallas Baptist University, which named him the Distinguished Alumnus for 2012.
A businessman and entrepreneur, Simmons co-founded Retirement Advisors of America (RAA) and continues to serve as its Chairman. Launched in 1991, today, RAA manages nearly $1.9 billion in assets for families across the country and provides jobs for 35 employees as well as 15 exclusive independent contractors. In 2010, he was named one of the top financial advisors in the Dallas/Fort Worth area by D Magazine and his company has been named one of the top 30 financial advisors in the country by the trade publication Investment News. Simmons has also served as a consultant to businesses in the areas of financial management, strategic planning, and as an expert on business related issues associated with commercial litigation.
The Texas State Rep. speaks and trains nationally and internationally on leadership topics through Equip, the charitable arm of author John Maxwell's organization. He has led conferences for Equip in Rio De Janeiro, Brazil, Bucharest, Romania and Soweto, South Africa. A member of the National Board of Directors for the Autism Society of America, he serves as the Board Vice Chairman, Chairman of the Nominating Committee, and Member of the Executive Committee. He is a Life Member of the NRA and has been a longtime supporter of the Liberty Institute which works to protect religious liberty, marriage, and the sanctity of human life. The Simmons' are active in their local church, Prestonwood, serving in the ministry to young married couples. He has previously served as a deacon at First Baptist Church in Dallas.
In the video below, Rep. Simmons talks about the most important issues facing the Lone Star State in 2016.
Bob Weir is a long-time Flower Mound resident and former local newspaper editor.