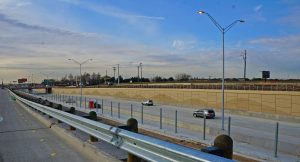 Southern Denton County commuters now have a stoplight-free pathway to nearby highways, via the newly constructed lowered southbound lanes of FM 2499 in Grapevine.
The new lanes opened on Monday morning to positive reviews.  However, motorists report that the traffic bottleneck has shifted south to the ramps from FM 2499 onto Hwy 121, I-635 and Hwy 114.
Flower Mound Mayor Tom Hayden said that he has already addressed the issue with TxDOT.
"I did point out that there was a choke point from 121 entering onto 635. There is $300 million dollar solution that is in the works but it is down the road," said Hayden.
"We talked about less expensive solutions in the interim such as making the access onto 635 two lanes instead of one and other possibilities. But they are aware and working on improvements."
The project's next major milestone will be to open the northbound lowered lanes of FM 2499 in March.
To stay up to date on current traffic conditions and upcoming closures, visit the DFW Connector project website.