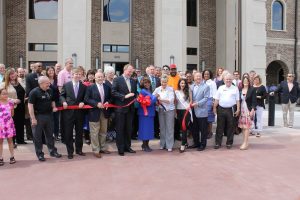 The long-awaited $9 million Precinct 3 Government Center opened to the public this past Tuesday, with a ribbon cutting ceremony held Friday afternoon.
Several government officials made brief comments at the ribbon cutting.
Precinct 3 County Commissioner Bobbie Mitchell said, "It's an exciting day in Denton County to celebrate the much anticipated grand opening of the Precinct 3 Government Center."
She recognized and thanked dozens of county, state and city officials who were present for the occasion.
Read more from The Lewisville Texan Journal.