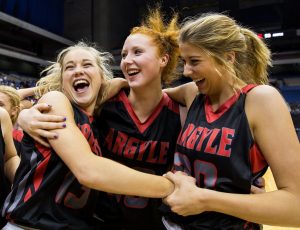 by Faith Stapleton
Winning state back-to-back is not an easy accomplishment, but with hard work and determination, the girls' basketball team from Argyle High School plowed their way to the top once again. They claimed the most prestigious title a high school varsity basketball team can earn, beating out rival Waco La Vega on Saturday at the Alamodome in San Antonio.
"For me I didn't even consider any other option other than winning," senior guard Olivia Gray said. "I didn't even think about what would happen if we had lost. There was none of that going through my mind. It was all 'we are winning this game. We are getting the rings. We are getting the gold medal. We are not going to lose.'"
This highly anticipated game turned into a battle and was considered one of the best games of the tournament. The Eagles started off the game strong, knocking down several shots in a row to get an early lead on the Lady Pirates.
"Argyle came out shooting the lights out," La Vega's head coach Jeff Jefferson said. "So we had to switch defenses and go to more of a full court man."
Although the girls came out strong, they struggled a bit with La Vegas' press in the beginning of the game. But the team planned a successful strategy to get the ball down the court safely away from La Vega's fast and aggressive guards.
The Lady Eagles managed to get their girls in a different defense after sophomore guard Gabby Standifer dribbled through the press, knocking out two 3's in a row.
"It [La Vega's press] did bother us in the first half before we settled in and got our people in the right place and started attacking it a little better," Argyle's head coach Skip Townsend said.
Through the second quarter, the Eagles kept a steady lead over the Pirates, but it wasn't all roses. The nail biting began in the third quarter when La Vega managed to score 15 points and knock Argyle's lead down to roughly six points.
But once the Eagles started the fourth quarter, they kicked it into gear and extended their lead, scoring 14 points while playing amazing defense. The Pirates fought hard to take the game, but they never snatched the lead from Argyle again.
"We got ourselves in a hole that was tough to get out of," Jefferson said.
As the clock ran down from ten seconds, the Lady Eagles' fans started cheering, "Argyle" clap, clap, "Eagles." When the buzzer sounded the girls ran into a group hug and starting crying tears of joy, knowing their Saturday practices, tough weight room workouts, and weekday practices had all been worth it.
Standifer was named MVP of the State Championship game, shooting 75-percent from the 3-point line and earning 24 total points. Argyle's star point guard was a huge key to the team's successful win.
"She [Standifer] came out tonight and hit some big shots," Townsend said. "Probably the biggest play she had tonight was making that charge in a huge part of the game; it was a great play and kind of turned the game around and kind of took their momentum away from them."
Standifer isn't the only Lady Eagle that received an extraordinary accolades. Junior guard Vivian Gray reached 2,000 total career points, which as a junior shows how strong of a player Gray is.
After a long, hard season, the girls basketball team celebrates their back-to-back state championship title, and when they return to Argyle, will start preparing for next season. But for now, the 2016 4A State Champions are ready to relax and enjoy their glory.
"Winning never gets old," Vivian Gray said.