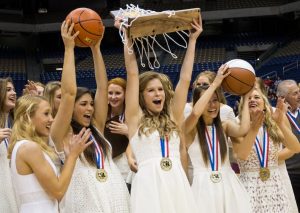 The town of Argyle scored two back-to-back state basketball championships on Saturday.
The Argyle Lady Eagles successfully defended their UIL State 4A title on Saturday evening, defeating Waco La Vega 53-43. Gabby Standifer was named MVP. With the win, Argyle Head Coach Skip Townsend earns his eighth career state championship.
Earlier on Saturday, the Liberty Christian School Lady Warriors pulled off the same feat, claiming the 5A TAPPS state title for the second year in a row after defeating Prestonwood 48-43.
Your 2016 5A girls State Champion… Liberty Christian Lady Warriors @NavyOut pic.twitter.com/F1FE2s3VPN

— TAPPS (@TAPPSnet) March 6, 2016
FINAL SCORE: @ArgyleISD 53, @LaVegaISD 43. Congrats Argyle on 3rd #UILState title! Box: https://t.co/3g0RMlxDJ7 pic.twitter.com/pPmUi8Lxqg

— Texas UIL (@uiltexas) March 6, 2016