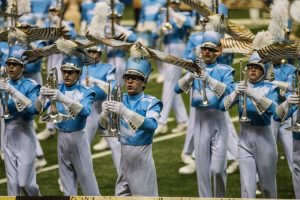 Lewisville Independent School District (LISD) band programs are familiar with competition success—including being named winners of Grammy Awards. But, what happened over the first weekend in November topped the charts—literally.
LISD high schools earned the top three spots in the 2016 University Interscholastic League Class 6A Marching Band Contest at the Alamodome in San Antonio.
Flower Mound High School won the competition for the first time in school history; while Hebron placed second and Marcus third. It was the first time in UIL history that one school district swept the top three spots in the largest classification. The only other district to achieve the feat was the Leander ISD in the smaller Class 5A last year.
"It's pretty rare when the same district can finish in the top three spots and it's even something that's being noticed nationally," said Brent Biskup, Flower Mound's fifth-year director of bands. "It was really amazing for that to happen that way."
Flower Mound also captured its second consecutive Bands of America Super Regional title four days earlier in the same venue; with Hebron placing fifth and Marcus sixth. Though Flower Mound ended Marcus' streak of five consecutive UIL titles in the even-year competition, it kept the title in the town for everyone to share.
"It's nice from an LISD standpoint– and a Flower Mound standpoint– to say we kept it this in the town," Biskup said. "That's a feat in and of itself. And, it's an accomplishment for the students and the school to say 'hey we've achieved things at a very high level, as well.'"
Flower Mound's best previous finish was ninth in 2014. A week later, the Jaguars placed sixth in the Bands of America Grand Championships in Indianapolis, Ind., at a time that helped set the stage for the program's ultimate success this year.
"It's really an amazing accomplishment," said Biskup. "Our students go to church and are friends with the kids at Marcus. We've revered that program for so many years. It's been something close to home. We've always been supportive of what Marcus had been doing, so for us all of a sudden to be in that situation is a huge deal.
"It's been great for the two programs. The first person to come over and give me a hug was Ms. (Amanda) Drinkwater (Marcus' director of bands) and we always do the same for them. Our students are always so supportive of each other, which sometimes rival schools don't always do."
Flower Mound's show was titled: "Leonardo's Dream," based on Leonardo da Vinci's Codex Leicester scientific writings collection; and, da Vinvi's desire to fly. The performance visual feature portrayed a student as da Vinci learning how birds fly, then half-man and half-bird ideas, ending with a flying machine; where the student portraying da Vinci enters the machine while it takes off.
Such a show relies on a tremendous amount of help from people behind the scenes. For Flower Mound, approximately 100-150 parents and other volunteers spent time assisting the 394 band members.
"We have quite a few dads that worked on the props, parents that came in and helped with the competition uniforms, that have to be individually fitted for each student and we have chaperones and truck drivers," said Dora Ness, president of Flower Mound's band booster club, whose daughter Hannah is senior bass clarinet player.
"The creative directors keep coming up with more and more intricate shows and we're fortunate to have a group of parents working on props; many of whom are engineers that design really extensive props, which means it takes a lot of trucks to move all of that," said Ness's husband, Michael, the group's director of communications, noting a convey of one large semi-trailer truck and four rented box-trucks.
Similar logistics were required for Hebron's 300-member band, which performed "Uncharted Waters" with music from composers Paul Lovatt-Cooper, Claude Debussy and Michael Martin.
"We were proud of the way they performed and proud of their work ethic and their progress all season," said Andy Sealey, in his 14th year as Hebron's director of bands. "We made a lot of progress the last month of the season and [remained] true to our goals all the way to the end. Ultimately we work against ourselves and try to be the best we can be at the end of the season."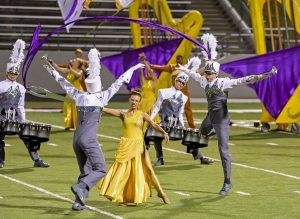 Marcus' show was titled "Twist of Fate" and included opera numbers from Italian composers Giuseppe Verdi and Giacomo Puccini. Visual effects included large, colorful harps and centered on a Verdi piece called: "The Force of Destiny."
"It's been 15-years for me in the district and I'm so proud of all three programs," said Marcus Director of Bands Amanda Drinkwater. "I'm thrilled for Flower Mound, thrilled for Hebron and thrilled for our students. I would have felt that way regardless of the order or the outcome or whatever.
"I feel really proud of our students. We were young– we graduated a large class last year– and the majority of our leaders. Many of our marchers were first-timers on the field and for them to be able to pull off the program … I truly believe I've never worked with a group that came further than this group."
The LISD bands weren't the only ones from the southern part of the county to enjoy success in San Antonio.
Argyle finished in second place in the Class 4A competition Nov. 7 and only on a technicality. The Eagles, state champions in 2008, 2010, 2012, and 2014, actually had the best score, but were moved to second place when one judge ranked eventual champion Paris North Lamar seventh.
"UIL kind of has a rule within-the-rule that states, if a band receives a first-division rating from two (out of three) of the music judges and one of the marching judges (out of two), they would automatically become the champion," said Kathy Johnson, Argyle's director of bands. "And that's what happened. It's called 'the judges' preference rule.' It's if there's one judge that kind of is off-a-ways from the other judges, to keep that band from being punished or whatever."
Argyle's 122-band members performed a show titled: "i-Generation:" featuring a combination of James Horner music from the movie "A Beautiful Mind," some from University of Texas composer Donald Grantham and English composer Biggi Hilmars, plus from the light shows at Disney's Epcot theme park.
"We want the students not to put everything on winning," said Johnson. "We want them to put it on the experience; the journey, the preparation and then the performance. Did you perform to suit yourselves? All of our students know there were some flaws, so they were disappointed in that. If it had been a more clear-cut second place, it wouldn't have hurt so much. But, it was because of a technicality in the rules that prompted it [second place] to happen.
"Of course, we wanted to keep our streak going; who wouldn't? But, we know we did a good show, we loved the show, we loved the music, our parents and the school district and community loved the show. So, we put a great product out there. They have a lot to be proud of."