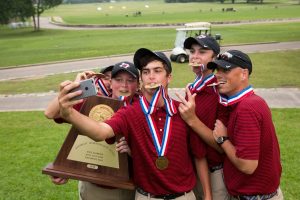 by Caleb Miles
Argyle High School's golf team fought their way through two days of wind to clinch the 4A State title for the second year in a row at Onion Creek in Austin on Tuesday.
The five-man team led by coach Brady Bell shot a two-day team score of 605.
Senior Tommy Parker finished out the two days with a collective score of 145, fellow senior Alex Isakson finished with same score.
Parker placed third individually after a three way playoff for second and third place.
The third senior, Will Blake, had a final score of 163.
First year letterman and sophomore Luke Griggs moved to Argyle this year and was immediately named to the varsity team, Griggs contributed a total score of 161.
Youngest on the team, freshman Logan Diomede pulled his weight finishing out both days of his first state tournament with a final score of 160.
Pleasant Grove High School placed second with a team score of 614, another DFW area team, Decatur, placed third with a trailing score 622.
The team played well considering the wind, humidity, heat, and the difficulty of the course.