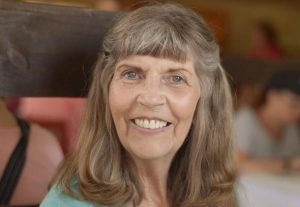 Southern Denton County has lost a community servant.
Flower Mound resident LaRue Johnson, 72, passed away on Aug. 12. She was the former publisher of The Cross Timbers Gazette.
She leaves behind her husband of 50 years, Steve, three sons—two of whom live in Flower Mound, while the third is in Connecticut—two daughters-in-law, three grandchildren and her sister who lives in Richardson.
"She really enjoyed her work and what she did," said Steve Johnson. "She also enjoyed being outside working in the garden; planting annuals, weeding and just being out in the sunshine."
Johnson and her family moved to Double Oak in the fall of 1981 and she became a volunteer editor of what was then called The Double Oak Gazette in 1982. It was originally started in 1979 by Suzanne Daniel and Mary Tonnies, who were members of the Cross Timbers Estates Homeowners Association in Double Oak.
She also got to know those in the community by gathering for bridge each week.
"LaRue and some of her friends got together and started a bridge group for some of the retired people in Double Oak as a social get-together," said her husband. "Over time, most of the original players were gone, but LaRue and her friends and her sister still got together and played. She really enjoyed that time with her friends and sister."
After relocating to west Flower Mound in 1986, Johnson kept assisting the Gazette, eventually becoming the publisher, in addition to her printing business. She also served as secretary of the Bartonville Water Corporation for several years.
"I not only designed and laid it out the old fashion way, cut and paste, but I also printed and mailed it," she said in 2009. "I had an old IBM 64 and used 'EasyWriter' to create the Gazette."
In 2000, she was diagnosed with ovarian cancer and had to suspend publishing the newspaper for a while. After she beat cancer, she started publishing again and shortly thereafter in 2002 expanded the circulation and renamed the publication The Cross Timbers Gazette.
"I got to know LaRue after the Gazette started showing up in my mailbox in Lantana around 2004," said Max Miller, the current owner/publisher of the Gazette. "I called her to see if we could work out a way for me to promote my Lantana news website, LantanaLinks.com, in her paper."
After working together for a couple of years she called Miller out of the blue one day in October 2006 and asked if he wanted to buy the newspaper.
"My wife was pregnant with our first child at that time and we were contemplating her becoming a stay-at-home mom, so the timing was perfect," said Miller.
LaRue's new-found free time allowed her to indulge another of her passions—travel.
"She really enjoyed travelling, especially visits to Germany, Austria, Italy and Spain," said her husband. "She liked visiting California, especially San Francisco, and Maine; plus everywhere else we went in the country. I think Florence, Rome, Madrid and especially the visits to Austria were her favorites."
She did, however, stay involved with the Gazette, after selling it, by handling the mailing each month; and, continued to serve area small businesses with her printing service. She helped grow the newspaper's circulation five-fold over the past 10 years.
"Right after I bought the paper, I spent a day following LaRue around and watching her shuffle all the paperwork I would need to mail the newspaper," said Miller. "I immediately decided that she should continue with that duty as she knew the postal service policies better than some of the local postmasters did. She continued to mail the newspaper each month until she passed away—including last month's August issue."
LaRue's work ethic was very strong and she was always a straight shooter, Miller said.
"She was famous for "early to bed and early to rise" and we used to joke that with my late night work schedule, at least one of us was awake 24-hours a day. I'd like to think that her staying so busy and involved with so many projects probably prolonged her life. She was still working in her hospital bed and was emailing me about our clients right up to the time she entered hospice."
"LaRue has been a big part of my success in real estate over the past three decades as well as a true friend," said one of LaRue's longtime customers, Gary Kuhatschek. "Our community has lost a great person."
Although LaRue knew and helped a lot of people, she was a very private person.
"I hounded her for years to let me write about her in the newspaper, but she always refused," said Miller. "She would say that it wasn't about her, it was about the community. I kept telling her that: 'one day I am going to write about you and you won't be able to stop me,' in hopes of convincing LaRue to let me interview her, but she stood firm. Looks like she got her wish."
Legacy Lives On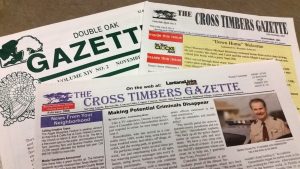 LaRue's hard work will be preserved for future generations, thanks to the Flower Mound Public Library.
At the Library's request, Miller donated back issues of the newspaper for the purpose of making them available to the public. The Library in turn is partnering with the Portal to Texas History to digitize the newspapers and make them available online.
The Portal to Texas History is a gateway to historical materials from or about Texas created and maintained by the University of North Texas Libraries.
A grant of $1,000 worth of digitizing services was awarded to the Library by UNT to start the project, and additional funding will be sought to complete it.
"We are excited to be able to provide access to this material as newspaper resources for southern Denton County history are difficult to locate and not readily searchable online," said Sue Ridnour, Director of Library Services.
"It's often said that newspapers are the rough draft of history. I'm so pleased that these archives will be professionally preserved," said Denton County Commissioner Andy Eads.