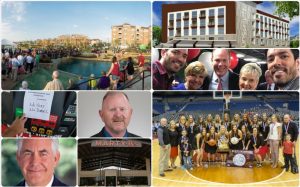 Our supercharged southern Denton County economy continued to hum along in 2017, but development pressure caused the usual political backlash. Mother Nature also put pressure on us in the form of giant hailstones and we could not escape the effects of Hurricane Harvey at the gas pump. Once we found fuel, a new restaurant was always just around the corner.
As we jump into our 39th year of serving southern Denton County, let's pause for a moment and take a look back at the past 12 months. Here are our picks for the top news stories of 2017 (in no particular order):
It's taken nearly a decade and multiple developers, but Flower Mound's "downtown," The River Walk at Central Park, made big progress in 2017 with the official opening of the river walk and the town's first hotel.
Hail storms pounded southern Denton County in March and April, putting a twinkle in every roofer's eye.
Argyle got a new mayor and two new council members in May as development backlash swept the town.
Lots of new restaurants opened in 2017, including a new Texas Hill Country-themed eatery in Bartonville and a long-awaited local Mexican chain that took up residence on FM 2499 in Flower Mound.
Highland Village residents voted in November to approve two bonds totaling $7.15 million for street and park improvements.
Trump called, he answered. Bartonville resident Rex Tillerson was tapped as U.S. Secretary of State in February.
Argyle police in July investigated the town's first homicide since the department was established in 1981.
Gridlock was eased (a little) when TxDOT cut the ribbon on Phase 1 of the billion dollar 35 Express project in November.
School funding got a boost in May when bonds were approved by voters in Lewisville ISD and Argyle ISD.
Hurricane Harvey's effects were felt in southern Denton County, as gas shortages hit the area in late August.
Northlake is set to double in population, as Hillwood Communities closed on its largest residential development to date.
When is one ever enough? Flower Mound officials approved the town's second and third hotels in 2017.
Big just got bigger. The real estate company that developed Lantana was acquired by the country's largest homebuilder in July.
The new Southwest Denton County Courthouse opened in July in west Flower Mound and brought local government closer to residents.
Bobby Dowell was appointed as Bartonville's police chief after Corry Blount moved on.
The Liberty Christian cheerleaders continued their winning ways and took state for the fourth year in a row.
Liberty cheerleaders take state title fourth consecutive time
HGTV's Property Brothers helped open the new Tanger Outlet mall in October.
We said our final goodbyes in 2017 to dedicated public servants: Double Oak Mayor Pro-Tem Steve Durbin, former Lewisville ISD Trustee Marjory Kent Vickery, former Flower Mound Fire Chief Eric Metzger, former Highland Village Mayor Bill Thorne and longtime Flower Mound town employee Danny Hartz.
The Argyle girls basketball program earned "dynasty" status after winning its third consecutive Class 4A state championship in March, capping off a stellar career for retiring coach Skip Townsend.
What was your top story of 2017? Tell us in the comments below. Happy New Year!