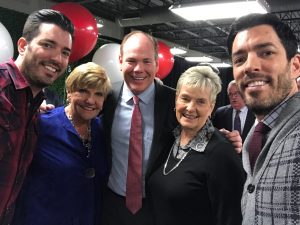 The new Tanger Outlet mall in far north Fort Worth opened Friday with a grand ribbon-cutting event and optimism about the growth in the area.
Lots of local officials, reality TV star special guests and the CEO of Tanger Outlets spoke during the ceremony Friday morning, the first day the new outlet mall — located in the southwest corner of Hwy 114 and Interstate 35W — was open for business.
Some of the speakers at the event included Fort Worthy Mayor Betsy Price, Denton County Precinct 4 Commissioner Andy Eads, Tanger Outlets CEO Steven Tanger and special guests Drew and Jonathan Scott, the stars of the HGTV show called Property Brothers.
The Property Brothers commended the builders for their quick work in constructing the outlet mall.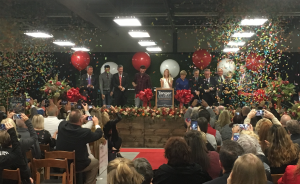 "We know what we're doing when it comes to being on time and on budget, but these guys take it to a whole different level," Drew Scott said.
"If you were here a year ago, you would never have believed that this would be done by now," Jonathan Scott said.
"The entire greater Fort Worth area has something really special here, and I look forward to coming back to visit," Drew added.
Tanger Outlets brought 70 new stores and about 900 full- and part-time jobs to the area.
"As part of the fastest-growing metroplex in the United States, I know that Fort Worth is all about putting Americans to work," Tanger said. "Well at Tanger, we share this goal."
The Tanger grand opening is just part of the beginning of development in the 114/35W area. The Bucee's and some fast food restaurants came before Tanger Outlets opened, but William Boecker, CEO and president of Fine Line Diversified Development, said much more is in the works for that piece of land.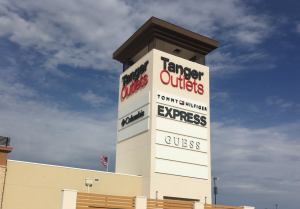 Tanger Outlets is a major part of a much larger mixed-use development by Fort Worth-based Fine Line called Champions Circle, which already has a golf club, apartment complex, hotel and restaurants, and it will bring office buildings, restaurants, retail stores, apartments to the location, Boecker said.
Fort Worth City Council member Dennis Shingleton said the many facets of development in the location will act as a "magnet" that "will bring more and more into this area."
Click here for more information about the new Tanger Outlets Fort Worth.