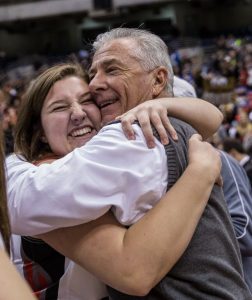 Asked why he decided to retire at the end of this season, Argyle Coach Skip Townsend responded with a question of his own.
"After 44 years, don't you think it's time?" Townsend said.
The Argyle girls basketball coach's career has been nothing short of remarkable; winning three straight state titles in the last three seasons.  This included a 40-30 victory for the Lady Eagles over Liberty Hill in the 4A Girls State Championship game on March 4.
He was inducted into the Texas High School Basketball Hall of Fame in 2016.
Townsend, 66, finished his career with a total of 1,081 victories, but said that he really felt this season was the appropriate time to hang up his whistle.
"It's time for us to devote time to our family, children and grandchildren," Townsend said. "I am missing a lot of milestones with my grandkids. This job takes total dedication and it's impossible to do halfway."
Townsend said that he loves the coaching aspect of his job and will miss preparing a team for its season.
"I'm very grateful to Argyle ISD, the parents and the community for the opportunities given to me," he said.  "Argyle has been an excellent place for us to work."
Townsend, who coached with his wife, Sammye, as an assistant, said the proudest moments of his high school career were winning two state championships with his daughters– Halsey and Lyssa– and Sammye, at Brock High School.
Townsend's Brock team won a third state championship with Halsey, prior to Lyssa joining the team.
The Argyle coach said his proudest moments as an educator include all of the Facebook posts, phone calls, email and texts that he gets on a daily basis from former players reminding him that he's doing the right thing.
"Keep demanding the most out of kids and pushing them to be their best," Townsend said. "That has made a huge difference in their lives and they continue to pass on those life lessons to their own children. That is the best ever."
Townsend said it is the right time for him to walk away from coaching, but added that he hopes his players have taken away some important lessons from their time on the hardwood.
"I hope that they understand why I was a 'tough love' coach," Townsend said. "That being your best, being excellent isn't easy.  It takes dedication, hard work and lots of perseverance.  That by persevering through tough times, they are able to tackle life with a better attitude and hopefully able to see success from all of their hard work."