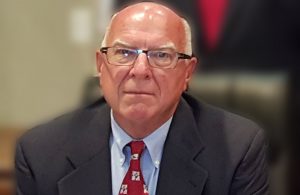 Double Oak Mayor Pro-Tem Stephen (Steve) Durbin unexpectedly passed away from natural causes on Sunday at a local hospital. He was 66.
Durbin was a devoted husband, father, friend, businessman and community leader for the Town of Double Oak.
Durbin first served as President of the Carruth Estates HOA and then later as a Town Council Member, Treasurer and finally Mayor Pro Tem.
During his tenure he helped create the Mayor Tom Pidcock Memorial and, while acting as Town Treasurer, helped ensure that Double Oak had a balanced budget, sound investment strategy and maintained one of the lowest overall municipal tax rates in Denton County, according to a press release from the town.
Durbin was born in Kalamazoo, Michigan and attended Western Michigan University.  He married Margaret (Peggy) Ann Durbin and has one son, Nick Durbin.
The Durbin family moved to Double Oak in 2003.
Durbin worked as president of PressCut Industries for twelve years until retirement.  He was a member of St. Philip the Apostle Catholic Church in Lewisville.
Information regarding funeral services is pending.
Durbin had filed for re-election this May, along with incumbent Dr. Ara Minassian and Scott Whisenhunt.
With Durbin's passing, the two open council seats will not be contested but since the deadline to cancel has passed the town is required to still hold an election.