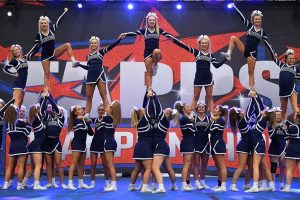 When the Texas Association of Private and Parochial Schools (TAPPS) introduced a cheer competition four years ago, Liberty Christian cheerleaders took the stage and shined, showing their skill and determination to lead in school spirit, as well as artistic and athletic ability.
For the past three years, the girls have won state, and last week, they earned that title for the fourth year in a row.
"We are so proud of them!" said Coach Stephanie Jones. "They worked so hard and really came together as a team. "I love these girls and our entire Liberty family!"
The girls won Division 1 that covers 5A and 6A schools, the largest schools in TAPPS. Division 1 includes 34 teams grouped into the small, medium, and large squads. In the large squad category, Liberty competed against eight other schools.
At State, judges evaluated cheerleaders on a 100-point scale in categories such as stunts, tosses, pyramids, tumbling, jumps, motions, transitions, dance, crowd involvement, and creativity and showmanship. The routines could not last more than two and a half minutes.
Liberty cheerleaders also received a bid to the Universal Cheerleaders Association Nationals Feb. 10–11 at Disney in Orlando from their performance at UCA's North Texas Regional competition that was held Nov. 19.