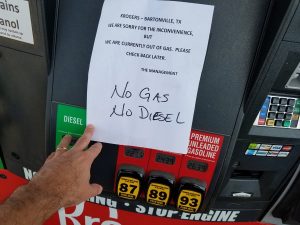 Hurricane Harvey did not reach North Texas, but it is affecting nearly all of its residents as gas stations are raising prices and running out of supply.
As Hurricane Harvey barreled down on Texas from the Gulf of Mexico, there was a major precautionary shutdown of oil refineries along the Texas coast, according to media reports.
Because of the hurricane effect, some North Texas gas stations were out of gas Wednesday, and it wasn't clear when the next shipments were expected.
The Kroger fuel centers in Flower Mound and Lantana were out of gas, as was the Murphy USA station in Highland Village on Wednesday afternoon. Gas was sill available at the Tom Thumb fuel station on Cross Timbers Road.
According to the website Gas Buddy, the average price for a gallon of regular gas in North Texas last week was $2.14. By Tuesday, it had risen $2.32.
Some gas stations in southern Denton County have reported similar increases, such as the Lantana Kroger, which quickly went from $2.09 to $2.23.