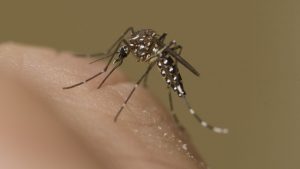 A second Flower Mound resident this week has been diagnosed with West Nile Fever, according to the town.
Denton County has notified the town of the diagnosis of the resident, who lives in the Lake Forest subdivision, according to a town news release on Wednesday. Flower Mound Environmental Health staff are setting up additional traps in that area to assess the mosquito pool.
On Monday, the county notified the town that a Glenwick Estates resident was diagnosed with West Nile Fever, the news release said. Since the home addresses of the two residents diagnosed with West Nile Fever are not near each other, mosquito control spraying will not be immediately scheduled. Spraying is only triggered if additional human cases are confirmed within the same general vicinity as this would give some confidence that the unrelated individuals were infected by mosquitoes in the same area.
A single human case at one location may not be the result of infected mosquitoes in that specific area. The individual may have been bitten in another location, so the is conducting additional trapping to help determine if infected mosquitoes are in the area.
For more information, call Flower Mound's Environmental Services at 972-874-6340.