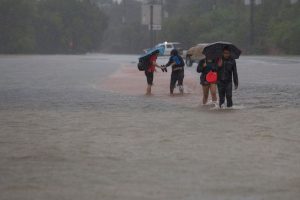 The Better Business Bureau of North Central Texans is cautioning residents to beware of charity scams in the immediate aftermath of Hurricane Harvey.
Harvey, with winds as high as 130 miles per hour, hit landfall in south Texas last week as a Category 4 hurricane, bringing devastating amounts of rain and flooding to Corpus Christi, Houston, and inland to Austin and San Antonio over last weekend, the BBB news release said.
Many people across the country and in North Texas want to help those affected by the flooding and other storm damage, but the local BBB warns that fraudsters often prey on our generosity and look for easy ways to obtain donations.
"People all over the country are charitable. We have already seen Dallas residents show solidarity to the families of victims of Hurricane Harvey," said Phylissia Landix, vice president of public relations and communications for BBB North Central Texas. "But, if you do not check out the organizations prior to donating, you could lose money, or worse be the victim of ID theft."
Scammers use emotional appeals to defraud well-intentioned individuals seeking to offer support and financial assistance to victims and their families. The local BBB often observes an increase in scams, particularly on social media and sometimes crowdfunding sites, immediately after tragic events, according to the news release. We can also expect "storm chasers," normally construction or clean-up crews, looking to profit quickly when storm victims begin recovery efforts.
According to BBB Scam Tracker, a new online tool that allows the public to report and track scams throughout North America, a significant number of charity-related scams have been reported online to BBB since late 2016. Collectively, citizens throughout North America told BBB that they lost thousands of dollars due to scams related to charity appeals. In many instances, these individuals are also vulnerable to identity theft.
BBB offers these tips to avoid charity scams online:
Verify the name. Many charities have similar names. Scammers may intentionally select a misleading name. Don't respond immediately to a solicitation. You can always donate once you're sure that you are giving to the correct charity.
Never click on links to charities on unfamiliar websites, in texts, or in emails. These links may take you to a look-a-like website where you will be prompted to provide personal financial information. Your information could be stolen.
Get proof of non-profit status. For-profit companies may pose as charitable organizations or mislead donors about how they use the funds that they collect. You can search for names on this list of tax-exempt organizations from the IRS. Or, you may choose from this list of vetted charities that are giving raising money for Hurricane Harvey victims, published by the BBB Wise Giving Alliance.
Be careful with crowdfunding appeals. Online sites that allow you to set up a fund to benefit individuals, families, or organizations are often challenging to verify. Crowdfunding sites may have some safeguards, but they can't screen out all fraud. It is safest to give directly to individuals that you know personally.
Read the fine print. Crowdfunding and charity sites often have privacy policies. Make sure that you understand under what conditions donations will be refunded (if at all), and whether the donor will be charged for administrative costs and credit card fees, and what those fees may be.
If you are looking for a way to help, the city of Dallas recently announced that it is preparing to house evacuees in the Kay Bailey Hutchison Convention Center. If nearby residents would like to volunteer, they should begin by visiting this link.
Click here to learn more about what to ask before making a donation.