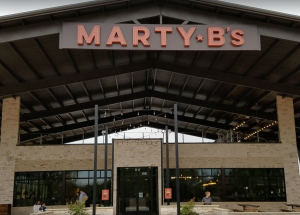 A new restaurant brings the atmosphere of a Texas Hill Country ranch and a very Texas menu to Bartonville.
Marty B's opened on Nov. 14 at 2664 FM 407, across the street from the Lantana community. The menu features in-house, freshly-made Texas specialties from steaks and BBQ to Tex Mex and burgers.
"I'm not sure anyone's done a menu like this one," said owner Marty Bryan of Highland Village.
There is also lighter fare and smaller portions on the menu, as well as signature cocktails, wine and craft beer.
Bryan has spent more than 25 years in the restaurant industry, working his way up from a line cook at Outback Steakhouse to helping expand the Cotton Patch Cafe chain, but now his dream restaurant is a reality.
"It feels pretty good," he said.
The 10,700-square-foot facility sits on 2.2-acres with 6,700-square-feet of covered space. It features a rustic Austin-stone exterior, seating capacity for 200 inside, with an indoor/outdoor bar area, plus a rooftop patio for private functions and a stage area for live music.
"When guests walk in, I want them to feel like they're on vacation," Bryan said.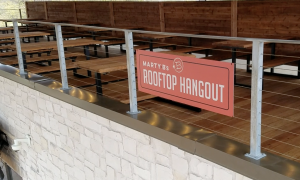 After dinner, people can kick-back and relax at community fire pits for S'mores, storytelling or listen to the sounds of Texas. Marty B's performance calendar will be filled with live music of local legends, up-and coming acts, or the occasional import from Austin, Nashville and beyond. That same area also has a huge-screen television for sports events when music events aren't playing.
There's a game area with cornhole and washers for people waiting to be seated.
The restaurant is open for lunch and dinner every day, but it also has carryout breakfast tacos and kolaches from 7-10 a.m. Monday through Saturday.
For more information, visit: martybsplace.com.