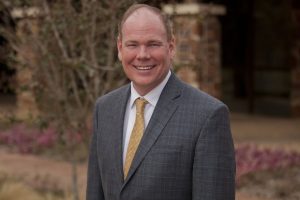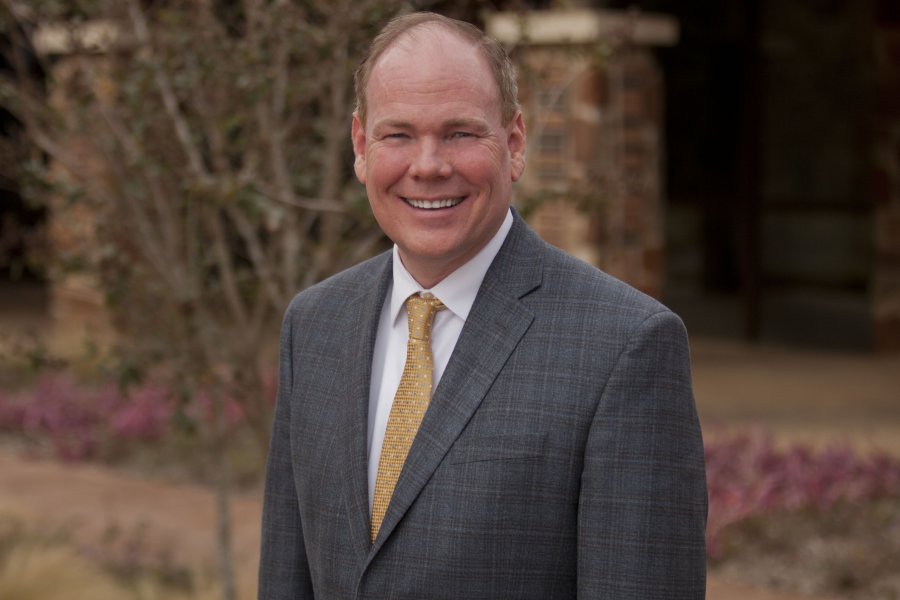 As we begin a new year it's not only nice to take a look back at what we've done this past year, but also to look ahead at what we have in store for 2018. Economic development and transportation remain top priorities, as well as maintaining our low tax rate, as we continue to seek ways to make life easier for our citizens.
A Look Back:
New Southwest Courthouse Opened in June
In June of 2017 we opened the new Denton County Southwest Courthouse, located on five acres in the beautiful master planned development of Canyon Falls in western Flower Mound, along Canyon Falls Drive at Hwy 377, just north of FM 1171. Bringing county services closer to our residents has been our focus for many years and the opening of this building is a huge step toward that.
The 32,000-square-foot building is home to many of our key county departments, including the County Clerk, the Tax Office, the Constable's office, the Justice of the Peace, the Department of Community Supervision and Corrections, Denton County Juvenile Probation, and the Precinct 4 Commissioner's Suite, plus flexible office space for Health Services, Veterans Services, and AgriLife to use as needed. We also have space allocated for a Department of Public Safety Driver's License office, which is scheduled to be open later this year.
These departments allow our residents to obtain birth certificates, search property records, record dba's, obtain passports, do license plate renewals, pay property taxes, file small claims cases, and eventually take care of all driver's license needs.
One of our proudest features is the community room which is available for meetings and other civic gatherings by calling our office at 972-434-3960 to reserve the space. We are happy to be in this new location and enjoy serving our residents in southwest Denton County.
We were also able to get through the approval process of turning the railroad track crossing over Canyon Falls Drive into a quiet crossing. This is of particular importance to the neighborhood, as there are more than 25 trains that come through each day. We were also able to seek approval of the installation of a signal at the intersection of Canyon Falls and 377. The signal will be installed in 2018 and will be a major safety improvement project.
Grand Opening of Farmer Brothers
One of the highlights of 2017 was welcoming Farmer Brothers to Northlake. Denton County partnered with the Town of Northlake and Farmer Brothers, and the result was their relocation from Torrance, California, and the construction of their new state-of-the-art facility.
This high-wage, high-quality development brought 250 new jobs to the area. Their decision to relocate was due in part to the quality of life, ready workforce, improved road system, and business-friendly environment in Denton County.
Founded in 1912, Farmer Brothers is a manufacturer, wholesaler and distributor of coffee, tea and culinary products. The company is a direct distributor of coffee to restaurants, hotels, casinos, offices, quick service restaurants ("QSR's"), convenience stores, healthcare facilities and other foodservice providers, as well as private brand retailers in the QSR, grocery, drugstore, restaurant, convenience store, and independent coffee house channels.
Farmer Brothers generated net sales of over $500 million in fiscal 2014 with approximately 1,800 employees nationwide. The company's primary brands include Farmer Brothers, Artisan Collection by Farmer Brothers, Superior, Metropolitan, Cain's and McGarvey.
Construction Kicked Off on FM 156 in Justin
Denton County and City of Justin officials celebrated the start of the expansion of FM 156 in Justin in March of 2017. The project let in November of 2015, with the contract awarded to Mario Sinacola & Sons, Excavating, Inc. at a construction cost of $32,541,856. The total expansion project cost is $47,746,468, with the majority funded through Denton County's Regional Toll Revenue (RTR) and Denton County bond funds.
This much-needed project will expand the highway from a two-lane road to a four-lane divided urban facility on the stretch of road from SH 114 at FM 156 to just north of FM 407 in Justin. The project is scheduled to take 521 working days with 25 months of barricades, and is planned for completion by March 2019.
Projects of this magnitude don't just happen – it takes foresight and collaboration at every level. While mobility and economic development are certainly an important component to this project, the primary objective of this project is the safety of our residents.
US 380 West Completed in 2017
As we take another step in providing safe roads for the citizens of Denton County, we are celebrating the completion of all phases of the US 380 West projects – in-town, rural and urban. With the improvements to US 380, we have greatly improved safety and mobility by taking the road from a two-lane, undivided highway to a six-lane median-divided facility.
In addition to these improvements, the county and City of Denton partnered to allocate funds for the installation of the traffic signal at Cindy Lane and US 380, at a cost of $400,000. The county contributed $250,000 and the city contributed $150,000 in an effort to move forward with this much-needed safety feature. TxDOT also played a key role in expediting the process in meeting the requirements for warranting the signal.
This project was constructed to address the safety and to accommodate the increase in traffic along US 380 due to the population growth. Together with our partners, we can identify and prioritize transportation needs for our citizens in locations that are successfully growing and producing a superior quality of life.
Oliver Creek Bridge Reopens
Oliver Creek Bridge reopened mid-July after being closed for more than a year due to damage from flooding. The west approach of the Oliver Creek Bridge washed away in 2015 and 2016 flooding, rerouting traffic between Denton County and our neighbors in Wise County more than 13 miles. The end project came in under budget after four months of construction thanks to the hard work of Iowa Bridge and their workers. Special thanks to the residents in the area for their understanding and patience while we worked through the legal process in getting funds to repair the bridge.
Equestrian Trail at FM 2499 Regraded
Thanks to the hard work of the Road and Bridge West crew, the Equestrian Trail finally drains properly. What was once a bog of standing water and muck too deep for horses or people to travel, now drains perfectly. Our county staff started with a trench to drain the water and then regraded the trail to remove built up sediment that was preventing the proper flow of water.
This was an important project to me as we take care of our large equestrian community population. This problem had been steadily worsening for years and I'm proud of our crew for returning it to the wonderful trail that's even better than it was.
Court Approves New Lower Tax Rate
At the end of the budget hearings this past year, the Denton County Commissioners Court officially adopted the new, lower tax rate of $0.237812 per $100 for the tax year 2018, representing a decrease of $0.010597 (cents) from last year's tax rate of $0.248409.
This new tax rate will generate approximately $204.4 million in the tax year 2018 and will provide funds for the increase for mandatory debt service payments for voter-approved road and facility projects. Also, the funds generated from new property added to the tax roll, will be used to help fund employee-related costs and operating expenses.
Lower taxes continue to be a priority for all of us on Commissioners Court and the departments have done a great job making changes to their budgets that reflect that priority – to the benefit of all the citizens of Denton County.
Canyon Oaks Roadway and Drainage Work
In May of this past year, Commissioners Court approved the specifications for roadway and drainage structure replacement, rehabilitation, and restoration in Canyon Oaks.
This project consists of replacing more than 350 linear feet of corrugated metal pipe, concrete pipe and concrete box, repairing 6,000 square yards of asphalt paving surface, leveling up, adding an asphalt waterproof mat and overlaying more than six lane miles of roadway, plus the clean out of sediment deposited in drainage ditches.
Residents of Canyon Oaks have been instrumental in working with the county to get these improvements started, and the result will be improved traffic flow and increased safety for our citizens.
Charles Schwab Breaks Ground on New DFW Campus in Westlake
Local leaders welcomed Governor Greg Abbott and executives from Charles Schwab Corp. to Denton County and the Town of Westlake at the groundbreaking for their new DFW campus. Their planned 500,000-square-foot regional campus will be home to more than 2,000 new employees in its first phase with room to grow that number to more than 4,500. Schwab's corporate expansion to Denton County was the result of active recruitment efforts from the private sector, the county, and the town, with the result being a new corporate partner bringing jobs and tax revenue to this entire region.
Ribbon Cutting Celebrated Completion of I-35E Phase 1 
November 8 was an important day as we celebrated the grand opening of the completion of the I-35E Phase 1 project. The event is the culmination of many years of work on the 35Express project. All the managed lanes, main lanes, and frontage road lanes are completed and in operation. The road is better due to the free capacity lanes that were constructed, and the managed lanes are working as planned.
Tanger Outlets Open in Time for Black Friday
One of my top priorities as County Commissioner is to help reduce the property tax burden on residential homes by increasing and diversifying the commercial tax base here in Denton County. We are accomplishing this by attracting outstanding manufacturing, distribution, corporate campus, and commercial and retail projects. Tanger Outlets opening in Denton County is one of these success stories.
The new Tanger Outlets, located at the southwest corner of I-35W and SH 114 next to Bucees, opened just in time for Christmas shopping. The center is home to more than 75 stores, including Brooks Brothers, H&M, Gap, Nike, Guess, Levi's, Restoration Hardware, and much more, and has hired about 900 full-time and part-time workers. This project was a huge win for the citizens of Denton County.
Some additional benefits that resulted from this project coming on board are two new traffic lights on SH 114 at the Speedway. Traffic has been a huge problem at both LaBonte and Allison as they intersect 114. We were able to work with the City of Ft. Worth and TxDOT to help resolve some of these issues, which is doubly important with the increased traffic generated by the outlet mall shoppers.
Looking Ahead:
As we look to the New Year, we have many projects on the horizon. One of the most exciting is the beginning of the Phase 3 Courthouse, which will be located on Loop 288 in Denton and will house many of the county departments in one place. We have worked diligently with the architects to ensure this is a special building that reflects the history and tradition of Denton County. Watch for more information in the coming months!
Another project on the horizon is the creation of a new county promotional video. As we continue to spread the good news of Denton County, this video will be used to share all the benefits of locating a business here, with a focus on our quality of life and many other attributes.
As we continue to ramp up our economic development efforts by pursuing quality commercial development, we also place importance on the businesses already located in Denton County. A major business retention campaign will be implemented in 2018, as we not only say thank you for investing in the county, but we will also include a fact-finding mission to see how the county can help with their future growth.
Widening of I-35W
By far the largest project being developed in Precinct 4 is the widening of I-35W to a six-lane rural freeway from the Tarrant County line to I-35E/I-35 in Denton at an estimated cost of approximately $1 billion. The county is taking the lead to develop the advanced planning for this corridor with the intention of seeking funds to build portions of I-35W as development warrants.
Already, Denton County has successfully partnered with TxDOT for the construction of north and south bound frontage roads on I-35W from Eagle Parkway north to SH 114 at a cost of just over $30 million. The southbound frontage road is scheduled to be completed this month and the northbound frontage road will be completed by June 2020.
Hilltop Road Bridge Reconstruction at Loving Branch
Our office has championed the reconstruction of the Hilltop Road Bridge, which is a county road, with 75% percent of the funding coming from TxDOT and the remainder from Denton County.
The single span bridge crosses the Loving Branch Tributary (located 0.4 miles north of FM 407 near Lantana) and is roughly halfway between Tudor Lane and Whitmore Road. We appreciate your patience and understanding through this process and thank you for supporting our capable partners at TxDOT as they work to improve the safety of this roadway for our residents and traveling public.
The road was closed to traffic in September and the anticipated completion of construction is later this month. Information regarding the status of the road will be posted on our website as the time to re-open draws near.
Although TxDOT is managing the project, our Denton County Precinct 4 staff is available to answer questions and to serve as your liaison with TxDOT for any issues you may encounter throughout construction. Should you need assistance, please contact my office at 972-434-3960 and we will help in any way we can.
Realignment of Loop 288/Lillian Miller and I-35E
One of the most challenging intersections in the county is the Loop 288/I-35E interchange. The conceptual reconfiguration design is confirmed and we are in the development phase of the ultimate main lane, direct connector, and frontage road design. This will be a huge relief to the citizens who travel this area on a regular basis.
Connect With Us
We would love to have you connected to the county by subscribing to our newsletter. Just use this link and enter your email and you will be up-to-date on everything that's going on in Precinct 4: http://bit.ly/Pct4newsletter
If you have any questions or comments, please let me hear from you. My email is [email protected], and my office number is 972-434-3960.