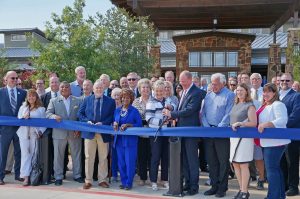 The new Southwest Denton County Courthouse opened Friday with a grand ribbon-cutting ceremony.
The new satellite office for Precinct 4, located at 6200 Canyon Falls Drive in far west Flower Mound, was a $13 million "labor of love," said Precinct 4 Commissioner Andy Eads at the ribbon-cutting.
Several government leaders and staff members spoke to a crowd of about 300 people at the event, praising the state-of-the-art building and the benefits it will bring to residents in the area.
"The building was warmly received by members of community," Eads said. "It's a great sense of relief to get it finally completed."
Eads said the county "took great effort" to design the 32,000-square-foot building to be flexible, primarily thanks to the large community room and adjacent offices meant to be used for temporary services, "such as the health department for seasonal immunizations, the veterans service office on a scheduled basis, and potentially a new polling place."
The community room will serve as an ideal meeting space for local civic groups, Eads said.
"There's limited meeting space in this area," Eads said. "It'll be highly utilized."
At the new courthouse, residents will find the Precinct 4 commissioner, justice of the peace and constable, as well as offices for the county clerk, tax assessor/collector and both adult and juvenile probation.
There will be a Texas Department of Public Safety office in the building, but it has yet to be staffed, Eads said. It'll be a similar operation to the Precinct 3 DPS office in Lewisville, which provides driver's licenses and other similar services.
Eads said the county had begun to think about satellite offices long ago, before he was elected, and more recently they began working on the original concept for this courthouse in a different location. They changed course and bought the first piece of land in Canyon Falls when it was first getting approved, choosing the "better, more centrally located" site to its service area.
"Residents out here are deserving of this office so they don't have to drive all the way up to county seat to pay a bill," Eads said, adding that it ought to also reduce lines at other Denton County courthouses.
In addition to Lantana and other unincorporated parts of the county, Precinct 4 represents all or part of 18 cities in Denton County:
Argyle
Bartonville
Copper Canyon
Denton
Dish
Draper (formerly Corral City)
Double Oak
Flower Mound
Fort Worth
Haslet
Justin
Krum
Northlake
Ponder
Roanoke
Southlake
Trophy Club
Westlake
Eads said residents can expect a traffic light to be put in at the nearby intersection of Canyon Falls Drive and Hwy 377.