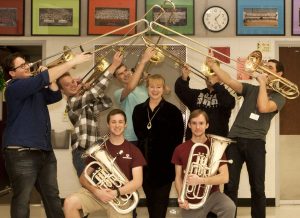 The Texas Bandmasters Association (TBA) has named the Marcus High School Band in Flower Mound recipient of a 2017 Exemplary Band Program Award.
TBA President Jeff King will present the award to Director Amanda Drinkwater during the annual TBA Convention/Clinic in downtown San Antonio on Thursday. 
The Texas Bandmasters Association promotes the value of music education in our society and the important role instrumental music plays in our cultural, intellectual and social lives.
The Exemplary Band Program Award is given once a year by the TBA Board of Directors to one Texas high school and one middle school band program that has proven to consistently produce an exemplary performing band program for an extended period of time. The awards are celebrated at the TBA's summer convention.
Drinkwater began her role as Director of Band and will serve the campus and community for the 13th year this upcoming school year. Marcus Band staff members include Chase Howard, John Leonard, David Simon and Kennan Wylie.
The Marcus Cluster incorporates three dedicated feeders, including Briarhill, Downing, and Lamar middle schools.
Many of the student musicians participate in the TMEA All-Region process and annual Solo & Ensemble festival annually. The concert organizations compete at Texas UIL Concert and Sight-Reading Contest as well as other various concert competitions during the spring semester.
Student performers have earned notable honors during Drinkwater's tenure at Marcus. In 2006, 2008, 2010, 2012, and 2014 the Marcus Wind Symphony was named a TMEA 5A Honor Band Finalist, performing as TMEA Honor Band at the 2015 TMEA Convention.
The Marcus Wind Symphony was a featured ensemble at The Midwest Clinic in 2007 and 2012, and has been recognized five times as a National Wind Band Honors finalist.
Marching ensembles at Marcus have earned seven consecutive trips to the 5A/6A Texas State UIL Marching Contest and have been consistent Bands of America finalists and recipients of various caption honors. In 2006, 2008, 2010, 2012 (5A), and 2014 (6A) the Marcus Marching Band earned the UIL Texas State Marching Championship. In 2016 the marching band earned third place at the UIL State Marching Band Contest.
The Marcus Band program was awarded the John Philip Sousa Foundation Sudler Shield for excellence in marching band performance in 2008 and the Sudler Flag for excellence in concert band performance in 2014 respectively.
Drinkwater is a member of TMEA, TBA, and the American Bandmasters Association. She was selected as Marcus High School Teacher of the Year in 2007 and was named a lifetime member of the PTA in 2008. In 2009, she was the recipient of the Music Educators National Conference "Excellence in Teaching Music" Award, and in 2011 she was the recipient of the prestigious Bayard H. Friedman "Hero" Award for her contributions to Music Education in the state of Texas. A resident of Highland Village with husband Rob, she is an active clinician and adjudicator.
Read more about Drinkwater here.