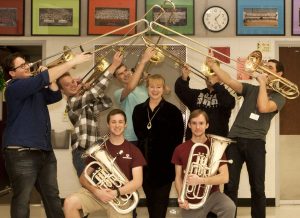 The foyer-hall leading into the Marcus High School gym-sized band room is covered with impressive posters recruiting student musicians for famous music schools and summer camps nationwide.  This is a tribute to the commitment of peppy Band Director Amanda Drinkwater.
A three-year resident of Highland Village with husband Robert Myers, Madame-the-Director first discovered her musical legs at age 3, by picking out tunes by ear on the living room organ.
"My grandmother noticed what I was doing, and insisted my mother find a piano teacher," said Drinkwater.
That was in the small town of Thibodaux, La., an elevated spot close to the Atchafalaya swamplands southwest of New Orleans.
"I grew up in an incredibly empowering household and was privileged to be part of a large extended family," she said. "My dear parents, as a matter of fact, were childhood next-door neighbors.  Dad was a decorated army helicopter pilot in Viet Nam after having married his best girl-next-door and worked for the same offshore oil company as his father and brothers for the duration of his professional career.  My mother is the very definition of a beautiful southern belle, a consummate homemaker, caretaker and daily inspiration to all who know her.  Mom and Dad married young, but were extraordinary parents who made it clear they wanted and expected the very best in life for me and my sister."
The Drinkwater family listened to records and recorded music; and, Amanda's father and uncles played guitar and sang together at family gatherings.
"I grew up hearing folk songs and country music," she said. "My elementary school had a string music program, so in the fourth-grade I began to learn how to play the violin."
At the end of fourth-grade, she attended a presentation about the middle school's band program.
"The teacher set up a table with all the gleaming band instruments, and I couldn't get my mind off the trombone," said Drinkwater. "I knew that was the instrument for me."
She signed on.
"I loved band," she said. "In high school I noticed that I was one of a very few young ladies playing the trombone and became of the opinion that I needed to learn a more 'feminine' instrument."
After some consideration, she switched to the euphonium: "That's really just a baby tuba."
After high school graduation, she decided upon a pre-med course of study and went off to Louisiana State University in Baton Rouge ("Geaux Tigers!"); but, discovered she had a "curve-slaying" aptitude for music theory.
"Theory is the class most music majors are required to take with some trepidation, but I found it a great change of pace from all the sciences of pre-med as an elective course," she said.
Impressed and puzzled by her dazzling classroom performance, the instructor wondered about the theory whiz kid; after some searching discovered she was a pre-med student.  Huh?  He called her in to find out why, and suggested she ought to think about becoming a music student.
"I talked about it with my friends– who were all band students– and decided to talk to my parents at Christmas about pursuing a career in music education; after having been at LSU for a year and a half already," said Drinkwater. "I was terrified."
She broke the news first to her mother, who said the dreaded words: "Talk to your father."
Dad and daughter went for an afternoon car ride.
"I burst into tears then broke the news, expecting he'd express his disappointment in the 'wasted' year and a half of college tuition and the postponement of graduation date," she said. "He just pulled over the car, laughing, comforted me, and wondered aloud why it took me so long to see what everyone else already knew– my heart was really dedicated to the making and teaching of music."
For the next three years, she performed in the university marching and concert bands and spent the summers playing the baritone with the Phantom Regiment Drum and Bugle Corps:  "A baritone is a marching musician's version of a euphonium."
In 1993, she graduated in Music Education, then went to graduate school in Kansas; then arrived in Texas for her first job as Associate Band Director at Leander High School in the Austin area.
After six successful years, she moved to Denton County's The Colony High School. In 2003, she arrived at Flower Mound Marcus, where she has been in charge of the band program for the past 13 years.
"I love this whole area," she said. "It's a great place with terrific people."
A band director works a 12-hour day on average.
"On game and performance days, make that 16-18 hours," she said. "There are often weekend and evening events and administrative chores. But, the whole experience is a joy-filled one."
Music students first learn to play notes," she explained. "Then, one day when they aren't looking, something beautiful emerges– music. The culture of music results from successful collaboration between teachers, students, and parents.  It isn't a single-person's victory."
Marcus's Band Department has a whole staff. Drinkwater is the chief administrator and is supported by Associate Directors David Simon and Chase Howard, plus Percussion Director Kennan Wylie.
"They are all terrific people," said Drinkwater.
Back in time, Simon was a Drum Major at Leander High School; Howard spent three-years as a Flower Mound High School band member, then became a Drum Major at Louisiana State University; and, Wylie is actually a world-famous percussionist and educator.
"He's a legend who has been with Marcus for over 25-years now," she said.
The colorful marching pageantry at football game half-times includes the hard work of Color Guard Director, John Leonard.  The 2015-16 academic year marks his seventh year with the Marcus Band Department.  "He's a prominent figure in the Color Guard arena and we're thrilled he's part of our team."
"We have about 100 student leaders who help move our program along," she said. "The students have to write an essay application for the position they'd like to fill, then show up dressed like young adults for a job interview."
The teaching team chooses the student staff. The positions include the drum majors, section leaders, squad leaders, and administrative leaders.
"And, we can't forget the Booster Organization, which raises money and does an enormous amount of volunteer lifting for the band," said Drinkwater. "A lightly attended club meeting might include 80 parents, and a big meeting will bring in 300 or more."
That group purchased three jazzy looking equipment trailers that live in the high school parking lot.  One requires the services of a highway tractor that turns it into an 18-wheeler.
All that work comes together daily in the band hall.
The upper walls are covered with gray sound-absorbing panels and encouraging quotes written in large letters. Below those panels are heavy wire cages that house instruments during after-hours.
A ledge sits between the wall sections.  It goes all the way around the room and is covered with trophies, plaques, awards and photos of all shapes and sizes.
The floor is no-nonsense white tile and the center of the room is filled with down-to-business black chairs and music stands facing a plain– also black– conducting podium.  The director's office looks out on this rehearsal area.
From the looks of her office walls, floor, desk and bookshelves, Drinkwater has been acquiring greater skill and honors since she left college.
"We don't sit down and plan how we're going to win awards," she said "we focus on how to teach our subject successfully."
The University Interscholastic League (UIL) caught her completely off-guard recently with its Sponsor Excellence Award. The honor identifies and rewards teachers who perform more than required service in their professional fields of expertise.
"I didn't even know there was such a thing, until my principal told me about it," she said of the prestigious award.
UIL is the governing entity that guides scholastic, academic events and extracurricular activities– such as fine arts and sports—and challenge Texas students to excellence.  More than 120 Marcus band ensembles have earned First Division UIL ratings over the last 30-some years.
During her tenure with LISD, Drinkwater has led students toward excellence by personal example.  A small sample of her leadership recognitions includes the 2007-08 Marcus Teacher of the Year Award.
She's twice conducted Marcus bands at the international band and orchestra contest called the Midwest Band & Orchestra Clinic.
She took the Marcus Marching Band to the Bands of America Grand National Championships in 2009 and 2013 and to the UIL Texas State Championships in 2006, 2008, 2010, 2012, and 2014.
She is a member of the Texas Music Educators Association, Texas Bandmasters Association, and the American Bandmasters Association.
Thinking over what advice she might give parents, in light of her own upbringing and interests, she said: "Consider all the creative possibilities in your children.  They have intriguing creative potential in areas that might be off-the-radar sometimes."