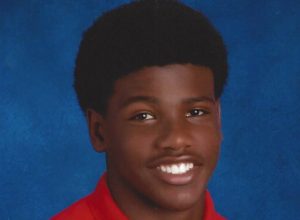 Bryce Jackson sees the beauty in serving other people, particularly, the elderly.
The Guyer High School junior is a safety on the Wildcats football team, a member of the Key Club, and perhaps most important of all to him, usher at his church.
Jackson said that, while he enjoys everything he does, it is church work that gives him the most pleasure in life.
"When I go to my grandfather's church, I like helping them out, because it is mostly older people," Jackson said. "It's always good when a young person is around, because it seems to brighten up their day."
Jackson is also part of the North Texas Chapter of Jack and Jill.
"It's an organization that works on leadership skills and volunteering in the community," Jackson said.
The Guyer junior said that he likes staying active at his school and community and with good reason.
"I just feel obligated to do it," Jackson said. "So I figure that I might as well give back to the people in the community that have always helped me."
The Guyer junior said that if he were given one superpower, it would be to have the ability to teleport.
"I just constantly find myself on the road," Jackson said. "I would like to be able to teleport, so I can get from one place to another faster."
Jackson said that there is also one thing he would change about the world if he could do so.
"It seems that in some countries, some people don't get a fair chance from the get-go," Jackson said. "It just seems that it's based off of where they're born and their governments, they don't have a fair shot. I would like to see that change to give everyone a fair chance in life."
Of all the things about his high school, Jackson said that what he enjoys most is the atmosphere provided by the school's staff.
"I love the friendliness of most of the teachers, faculty and principal," Jackson said. "It's a great environment."
Jackson has a 4.8 grade point average.
Jackson's Favorites
Favorite Subject: Math and Science
Person who most inspires me: Parents
Favorite Sports Team: Dallas Cowboys
Favorite Athlete: Jamar Adams
Favorite Food: Barbecue
Favorite Movie: Rush Hour 2
Last Book Read: The Great Gatsby
Favorite Musical Group or Performer: Charlie Wilson