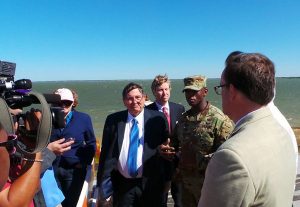 Repairs are underway on the dam at Lake Lewisville and funding is in place to keep the project on track.
Congressman Michael C. Burgess, R-Lewisville, hosted a press conference Wednesday with the Fort Worth U.S. Army Corps of Engineers to share updates on the continued progress of the repairs to the slide on the dam at Lake Lewisville.
Colonel Calvin C. Hudson, Commander of the Fort Worth District USACE shared that the Corps has the full funding needed to complete the critical repairs to the slide on the dam at Lake Lewisville and that the completion of the Dam Safety Modification Study has been expedited to 2018. The study will identify long-term improvements to minimize the potential for downstream flooding due to dam failure.
Following historic rainfall totals in May and June of 2015, Lake Lewisville and the surrounding areas experienced damaging floods that resulted in the formation of a slide on the Lewisville Dam. While maintaining the proper safety and operations of Lake Lewisville, which covers 29,000 acres of land in North Texas, has always been a top priority of Congressman Burgess it became clear that the need for expeditious repairs and funding was immediate.
Rep. Burgess said he has worked closely with the USACE and the appropriations committees in Congress to ensure the fiscal year 2016 USACE work plan included an additional $4,653,000 for the Lake Lewisville Dam. For fiscal year 2016, the Corps has a total of $8,688,000 in the Operations and Maintenance account for the dam at Lake Lewisville.
"Today we were able to share a good news story. The problem identified at Lake Lewisville is being addressed, in large part to the continued efforts from all levels of government across both parties and the dedication of the Ft. Worth Corps. Lake Lewisville has been a part of my life for its entire lifespan and thus a top priority of mine during my time in Congress," said Burgess.
"While we have addressed the short term, immediate need at the dam, I look forward to a continued, regular dialogue with the Corps to ensure the necessary resources for repairs as well as the Dam Safety Modification Study are made available."
The press conference was followed by a tour of the dam at Lake Lewisville led by the Fort Worth U.S. Army Corps of Engineers to view repair progress.
Congressman Pete Sessions (TX-32), Congresswoman Eddie Bernice Johnson (TX-30), State Representative Tan Parker (District 63), and Judge Mary Horn were also present at the press conference.