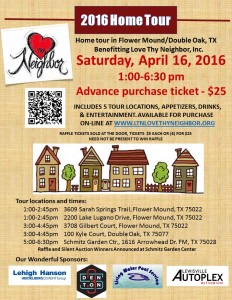 The 3rd annual Love Thy Neighbor Home Tour will be held on Saturday, April 16, from 1 to 6 p.m. in the Flower Mound/Double Oak area.
This year's tour features four homes and Schmitz Garden Center in Flower Mound.
Each stop on the tour will highlight unique design features including sprawling outdoor spaces, gourmet kitchens, unique entertainment spaces, an owner's retreat with full bar, a meditation room, a transformation from Old World design to Restoration Hardware showcase, and more.
The last stop at Schmitz Garden Center will include an organic grilling demo and dessert.
A raffle for an entire set of lottery scratch offs will be held and silent auction items including signed Cowboy sports memorabilia, a wine and dine package, a patriotic handmade quilt, a Chef's tasting table for 4 from The Table, and a decorative plant arrangement from Schmitz will be offered at each tour stop.
Tour tickets include all five tour stops, entertainment, three drinks and select finger foods.
Advance tickets are $25 and can be purchased at www.LTNLoveThyNeighbor.org.
Day of tickets will be available in limited quantities at each tour stop at the following times:
1-2:45 p.m. – 3609 Sarah Springs Trail, Flower Mound, TX 75022
1-2:45 p.m. – 2200 Lake Lugano Drive, Flower Mound, TX 75022
3-4:45 p.m. – 3708 Gilbert Court, Flower Mound, TX 75022
3-4:45 p.m. – 100 Kyle Court, Double Oak, TX 75077
5-6:30 p.m. – Schmitz Garden Center, 1616 Arrowhead Dr. FM, TX 75028
Love Thy Neighbor, Inc. is a North Texas based non-profit charity organization committed to supporting individuals and families who need nutrition and clothing, and newborns born into economic or health crisis.
Learn more about their Community Kitchen, Clothing Assistance Program, Love Thy Baby and Love Thy Pet programs at www.LTNLoveThyNeighbor.org or contact them at [email protected].