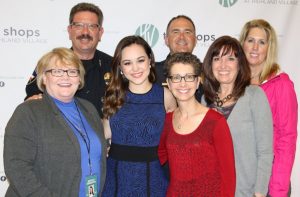 by Charlotte Wilcox, Highland Village Mayor
I recently had the privilege of attending the hometown screening of God's Not Dead 2 featuring our very own Hayley Orrantia. Over 300 people gathered to watch the screening of the movie and cheer on Hayley for her role in this film. The theater was filled with her family, friends, past teachers and principals, her drama teachers and many city staff members.
We remember when Hayley was 12 years old and her first public performance was singing at our 2007 Red, White & Blue Festival. She currently stars in the ABC sitcom The Goldbergs. Then and now she presented herself with such poise, grace and humility. Seeing the successes she's had and the community support she's received reminds me again we live in an awesome city. We pull together in times of need and we celebrate in times of victory. I'm proud of Hayley for bringing the screening to her hometown so we could celebrate with her.
We have reasons to celebrate at the city too – maybe not quite on the same level as Hayley though!
The Denton County Transportation Authority is launching two new pilot services in Highland Village – Connect Shuttle and Connect On-Demand.
Connect Shuttle is a peak-period shuttle service offered in Highland Village, Monday through Friday, from 5:30 a.m. to 9 a.m. and 3:30 p.m. to 7 p.m. (excluding major holidays). The service is available to any rider with exact cash fare of $1.50 for adults or 75 cents for elderly (age 65 or older), disabled, Medicare cardholders, and students ages five through 18. Valid ID is required for those who qualify for a discounted fare. Valid DCTA Connect and Local System fare, and Regional fare will also be accepted. The shuttle will provide stops at the following locations: Highland Village/Lewisville Lake Station (park and ride location connecting riders to the A-train and NCTC Campus Shuttle); Main Street Walmart in Lewisville (connecting riders to Lewisville Connect Bus and NCTC Campus Shuttle services); Chinn Chapel Road at FM 407 (connecting riders to the Shops at Highland Village); Village Parkway at Marketplace Lane (connecting riders to the Highland Village Walmart and LA Fitness).
Community On-Demand provides service for passengers traveling within the designated Community On-Demand Zone, Monday through Friday, from 5:30 a.m. to 7 p.m. (excluding major holidays). Passengers can schedule their trip at least two hours in advance, although DCTA recommends scheduling your trip at least 24 hours in advance to ensure space is available. The service is open to any rider with exact cash fare of $3. Valid DCTA Local System fare, Regional fare and Access fare will also be accepted.
Both new services will provide more options for people to travel within Highland Village and connect to other DCTA services such as the A-train commuter rail, Lewisville Connect Bus and North Central Texas College (NCTC) campus shuttle. With the addition of the new services, DCTA will discontinue its current Connect RSVP service.
We have been working with DCTA to provide a transit service that works best for Highland Village and meets the needs of our residents. We encourage those who use the new Connect Shuttle and Community On-Demand service to provide feedback at DCTA's GoRequest app at www.RideDCTA.net.
On Saturday, May 7, we will be celebrating the work of our local artists at the Highland Village Art Festival. This is the second year for us to partner with The Shops at Highland Village to hold this all-day art festival. You'll see local artists demonstrating and selling their gallery quality artwork. We'll also have children's activities and live music; plus we're right at The Shops at Highland Village so there are plenty of options for dining or shopping the stores. I encourage you to come by and see the beautiful art that is created by members of our community.
Also on Saturday, May 7, the Highland Village Fire Department is holding the Community Wildfire Preparedness Day event. Join individuals and groups of all ages and participate in national Wildfire Community Preparedness Day activities that will make our community safer from the impacts of future and past wildfires. The Highland Village Fire Department encourages area residents to participate in this event by joining us at the Fire Department in one of several activities, including a shoreline trash pick-up, fire prevention activities through brush clean-up in the Brooks Court and/or Castlewood neighborhoods, and by handing out Wildfire Education Materials at locations to be determined.  In-N-Out Burger will be on hand starting at 11:30 a.m. to serve lunch until the meals run out. Sign up early and invite your friends, neighbors, boy scout/girl scout groups and clubs to join us.
And April begins early voting and Election Day is also Saturday, May 7. We are having a municipal election this year along with the Lewisville Independent School District Board of Trustee election. You can cast your vote at any Denton County polling location during early voting and at your designated precinct on May 7. I encourage everyone to exercise their democratic right and vote.
We are excited to open Doubletree Ranch Park on Saturday, June 4, in conjunction with Celebrate Highland Village. Stay tuned for more details on this event!
If you visit the city website, highlandvillage.org, for more information on any of these events you will see we have a new look. City staff analyzed user statistics to re-design the site so the information searched for the most is front and center. The new site is also responsive which means it is easier to view on mobile devices. Top news stories are showcased as well as the calendar of events and video content.  I hope you'll take a look at the site and give us your feedback.
Our parks and recreation department is holding the spring family campout on Saturday, April 9, and the Movies in the Park series will pick up again in May.
As you can see, there is much going on in Highland Village. I hope to see you around town!