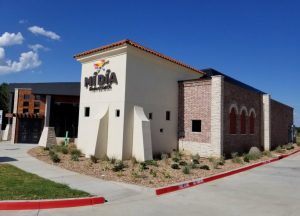 The eagerly anticipated opening of Mi Dia From Scratch in Flower Mound is almost here.
The popular Mexican restaurant first opened in Grapevine in 2011. It later opened a second location in Plano, and its third location, at the corner of FM 2499 and West Windsor Drive, will have its grand opening on Monday.
"We are excited to join the community and bring our unique tastes to southern Denton County," said restaurant partner Martin Meier. "I think we are bringing the nicest freestanding building to Flower Mound."
The Flower Mound restaurant was designed just like the Grapevine location, with the same bar, patio and dining room design and style.
The menu features common Tex Mex staples – fajitas, quesadillas, street tacos and more – but also Santa Fe-style entrees and other Mexican cuisines, including duck carnitas enchiladas, banana leaf wrapped salmon and tequila pesto enchiladas. The cocktail list is unique and extensive.
As the name suggests, the food and cocktails are made from scratch.
Click here for more information about Mi Dia.